UFC fighter Khamzat Chimaev, who is a supporter of the Palestinian cause, made headlines after posting an Instagram story about the Israel-Palestine conflict.
In his post, Chimaev expressed his desire to face the strongest Israeli alive. "You are just guests of Palestine, respect them for giving you asylum. One day you will be expelled from Palestine, Inshallah. Give me the strongest man from Israel, I will break him."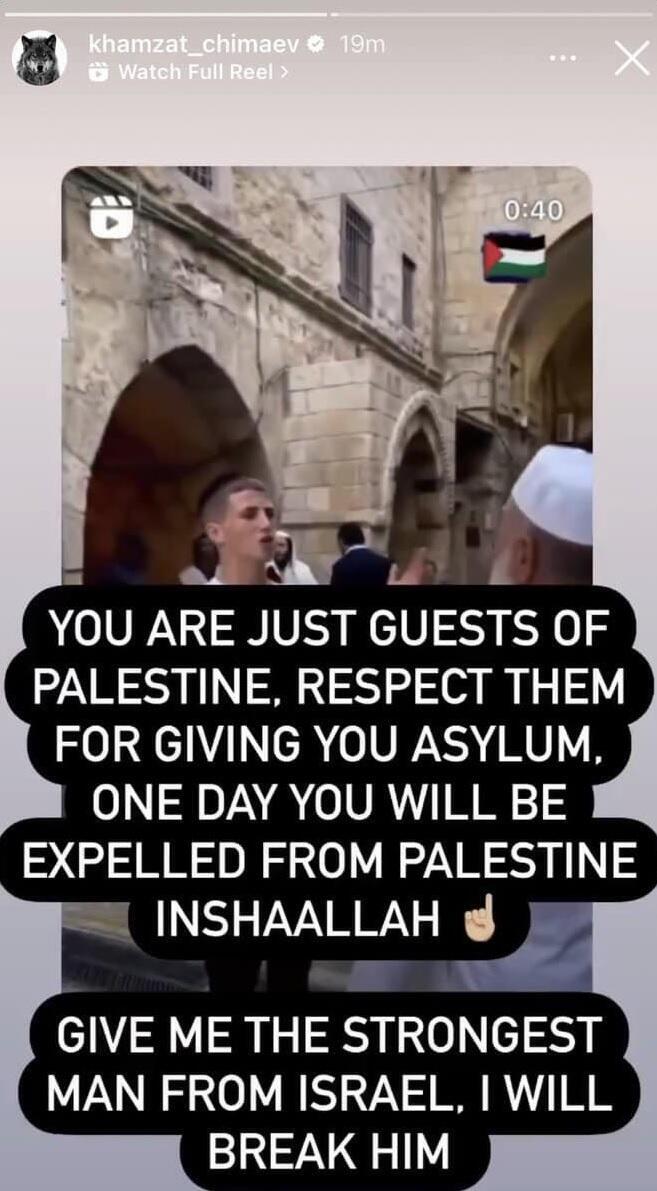 Khamzat Chimaev's outspoken criticism of Israel's actions in the West Bank has recently drawn the attention of several notably Jewish fighters. Natan Levy responded to Chimaev's remarks in a post, where he was asked if he would consider sparring with the 29-year-old Swede.
"He deleted it. Guys don't forget to hit the follow button so you can be a hater on all my posts. Thank You," Levy wrote.

Levy is an unwavering advocate for his homeland and consistently confronts his critics. Just last month, he issued a challenge to a social media detractor who had expressed support for white supremacist and Holocaust denier Nick Fuentes. This invitation came when the individual defended Fuentes' antisemitic statements on social media.
In a YouTube video, the 31-year-old Israeli fighter extended an invitation to join him at an MMA gym for a two-round bout. Levy emerged as the clear victor in the contest, prompting the heckler to offer a sincere apology after the conclusion of the second round.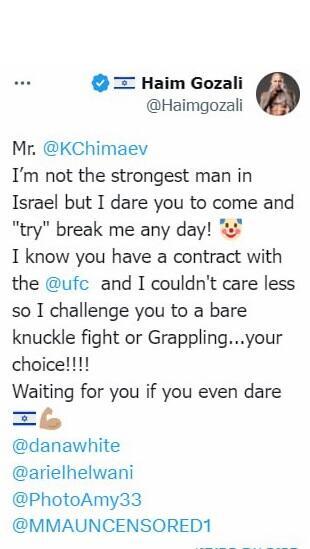 The post also caught the attention of Haim Gozali, known as The Israeli Batman. "Mr. Khamzat Chimaev I'm not the strongest man in Israel but I dare you to come and 'try' break me any day! I know you have a contract with the UFC and I couldn't care less so I challenge you to a bare-knuckle fight or Grappling...your choice!!!! Waiting for you if you even dare."