Rugelach, a baked delight originating in the Jewish communities of Poland is a popular Israeli treat to sweeten the weekend. Now a vegan recipe makes it suitable to more people at all times.
• 500 grams (3 cups) flour
• 10 grams (2 teaspoons) dry yeast
• 50 grams (1/4 cup) sugar
• 10 grams (2 teaspoons) salt
• 60 mm (1/4 cup) coconut oil
• 240 grams (1 cup) brown sugar
• 10 grams (1 tablespoon) ground cinnamon
• 100 grams (1/2 cup) sugar
In a bowl mix water, flour, yeast, oil, sugar and salt for 12-15 minutes to make a smooth dough, cover and let rise for one to two hours or until it doubles in size.
In a bowl mix all ingredients for the filling except the sault, to a unified mixture.
Cut the dough into two parts, roll out on a surface covered with flour to a rectangle measuring 1/2 cm thick and add half of the mixture, and sprinkle the salt on top
Fold the dough in half so that the filling remains inside, roll out again
With a sharp knife cut triangles and roll them to shape, place on a pan covered in a baking sheet. Do the same with the second half and let rise for another hour before baking.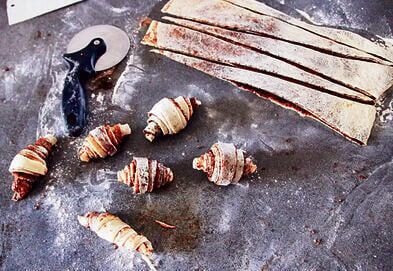 Heat over to 170° C (338° F) and bake for 15-20 minutes or until golden brown and puffy. Cool to room temperature. Heat water and sugar to a boil and glaze.