Ambiance:
Food Terminal is a new concept from the Ze Sushi group that combines menus from four eateries in one mini-food court. Strategically located adjacent to Tel Aviv's Midtown complex, the compact kitchen churns out dishes originating from Ze Sushi (Japanese), Vong (Vietnamese), Big Yves (French-style hamburgers) and Savage, a Food Terminal exclusive serving charcoal-grilled entrees and salads.
There is a fast food atmosphere, with no waiter service and ordering done standing up via electronic screen (this is the only option in English; there are printed menus in Hebrew). The dishes and self-service cutlery (or chopsticks) you pick up when your order is called, and are all served in take-away bowls, even if you choose to sit at one of the nine small tables or a few seats at a narrow counter. A trance music soundtrack plays while you wait and/or eat.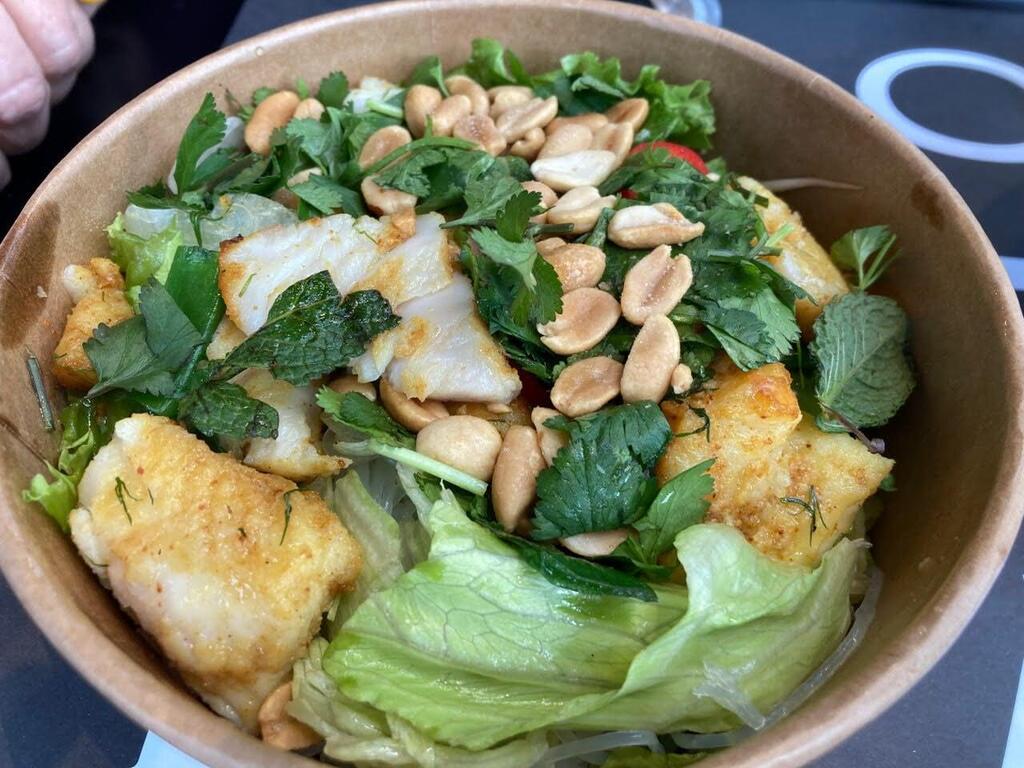 Drinks.
These are also self-service, from refrigerated display case. There are bottled specialty cocktails, along with a very limited selection of Israeli wines by the bottle and cans of sparkling rose and white. Choices of bottled beers are international, from Israel, Thailand and Japan.
Salads:
There are large salads on the menus of three of the four cuisines represented in Food Terminal (Big Yves offers only a small iceberg salad or coleslaw as sides to their burgers). Five of Savage's nine main courses are salads, while four make up a whole category of Vong's menu, under the heading Fresh Corner. There are only two salads from Ze Sushi, of which the Kinoko Wakame Seaweed Salad – white delicious and refreshing – falls a bit short of adding up to a main course.
Other menu items:
Virtually the entire menus of the flagship Ze Sushi restaurant in Tel Aviv's Old North and Vong's main establishment on Rothschild Boulevard are represented here, so Asian cuisine in many of its permutations are all conveniently available in Food Terminal. Savage's singular menu features charcoal grilled (Kopa) starters and intermediate-sized dishes alongside its four non-salad entrées.
Recommended:
Tuna Matata and Shrimp Caesar (Savage); Cha Ka La Vong and Gao Ga (Vong); [spicy!] Tom Salad (Ze Sushi).
This establishment is not kosher. It's located at 150 Menachem Begin Road, Tel Aviv. Tel. (03) 758-0000. There is another branch in Rishon Lezion (minus Savage).
Ambiance:
The new cafe Kalamata Café is an annex of the veteran Greek restaurant of the same name in the main square of Old Jaffa. There is al fresco seating under umbrellas in the historic plaza, as well as an indoor area with tables along a wall of mirrors overlooking the endless Mediterranean Sea. The soundtrack plays – you guessed it – Greek music. (Note: The café is usually reserved on Fridays for private events, although the main restaurant will be open.)
Drinks.
There are unique specialty cocktails, based for the most part on Greek spirits. Naturally, there is a more than adequate list of brands of ouzo, as well as a limited selection of wines by the glass or half bottle. Greek and other imported and domestic beers are available in bottles, with one brew on tap.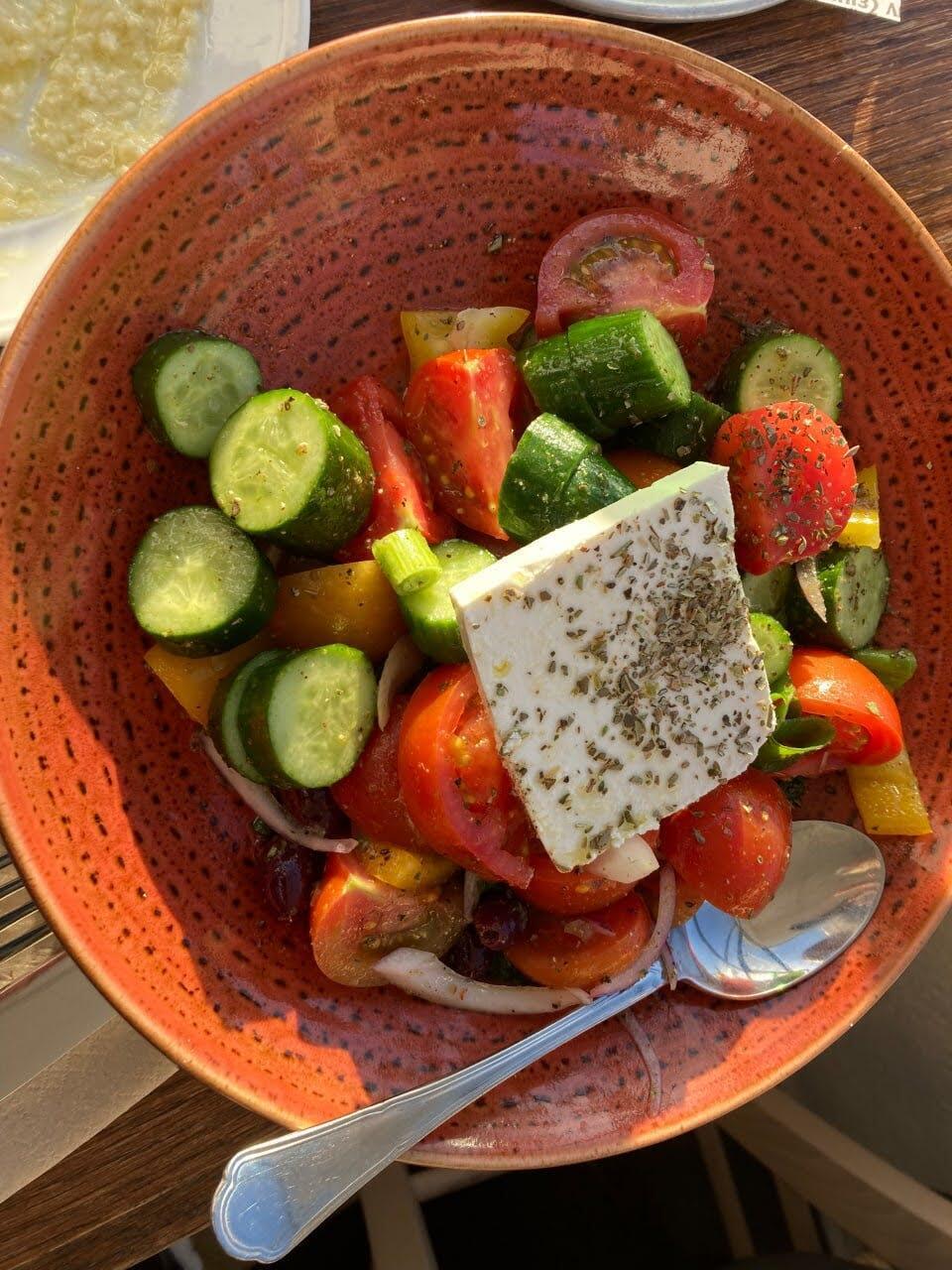 Salads:
There are three salads on the café's menu, beginning with Horiatiki, the classic Greek salad with za'atar-seasoned feta cheese; a tossed salad with generous chunks of breaded and fried Haloumi cheese; and the Hercules, with black lentils, broccoli florets, roasted butternut squash, cauliflower and assorted nuts.
Other menu items:
There is a pared-down menu consisting of highlights from that of the main restaurant, including such classics as Spanakopita (Greek cheese and spinach pie) and various mezze.
Recommended extras:
Greek fizz cocktail, rustic bread with dips and skordalia, the house knafeh.
This establishment is not kosher. It's located at Kedumim Square 10, Jaffa. Tel. (03) 681-9998
Ambiance:
This veteran Mexican eatery – which has been around for so long that its flagship restaurant was reviewed on these pages seven years ago – has grown so popular that it has expanded to encompass no fewer than eight locations – two of which are kosher.
The first Mexicana still sits at the strategic corner of Ben Yehuda and Bograshov Streets, where it boasts a cozy interior with colorful Mexico decor and two seating areas: indoors with handsome dark wood furnishings and comfortable chairs, and al fresco on the sidewalk (enclosed in winter). A pleasant contemporary Spanish soundtrack plays in the background.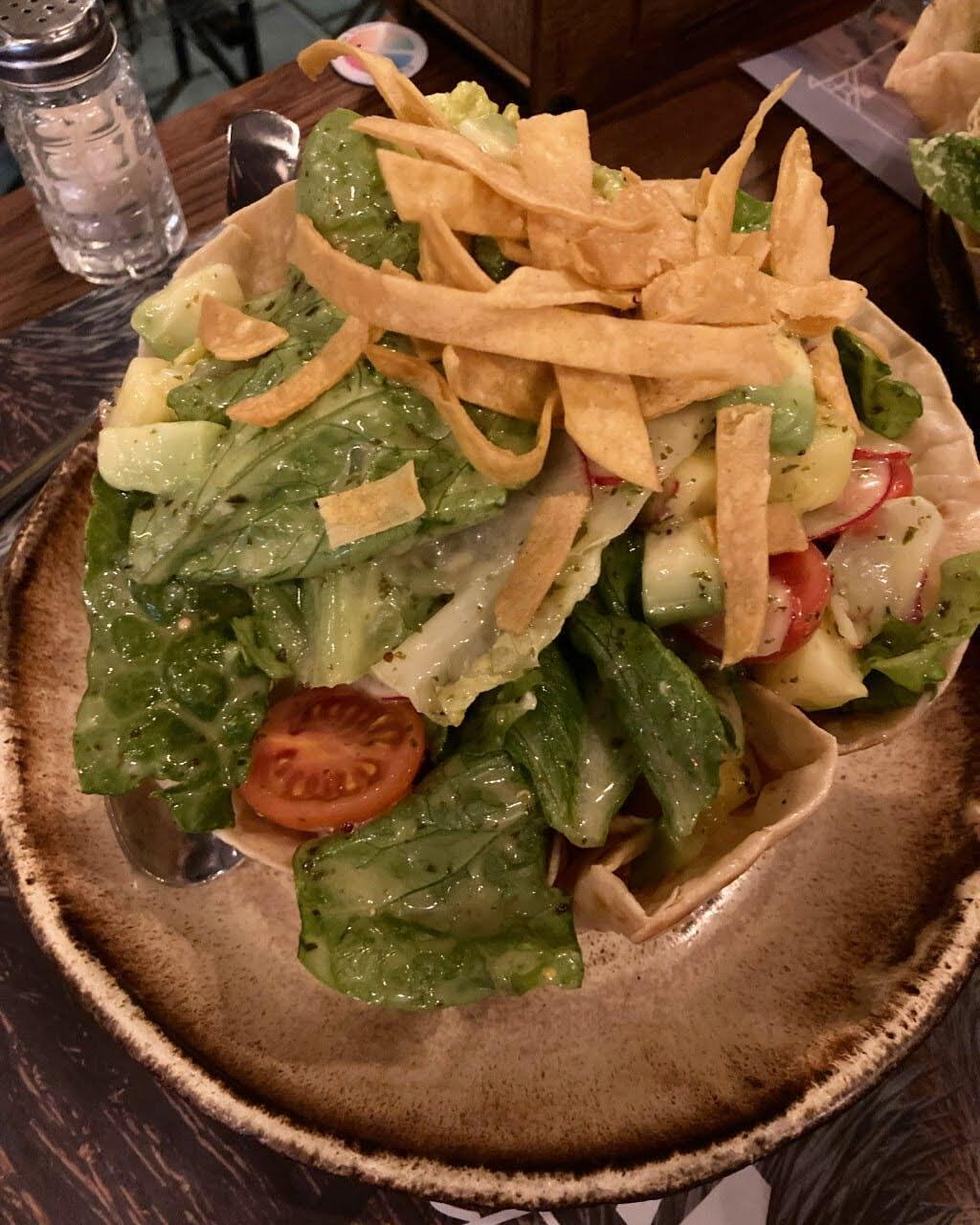 Drinks.
Savor complimentary frozen margarita shots before choosing one of several specialty cocktails, especially frozen margaritas made with different fruit flavors. Mexicana has its own brand of beer in bottles, plus San Miguel on tap. There is an adequate international wine list, with all selections available also by the glass, and cold sangria (both red and white) for quenching summer thirsts.
Salads:
There are two huge salads on the menu, both reasonably priced and both served in a crunchy, edible taco bowl. Mexicana's Chicken Caesar adds guacamole, cooked corn kernels and tortilla strips to the commonly found version, while the Pina comprises lettuce hearts, fresh pineapple, avocado slices, cherry tomatoes and purple onion in a citrus-mint vinaigrette, with chunks of chicken breast an optional extra.
Other menu items:
There are nine sections in the extensive menu, with something for everyone, including a children's menu. There are also plenty of special deals, either daily or weekly. Make sure to leave room for dessert.
Recommended:
The tres leches ("three milks") cake and classic flan are all worthy endings to your meal.
This establishment is not kosher. It's located at 7 Bograshov St., Tel Aviv. Tel. 1-700-500-993.