Dr. Eran Mashiach, who oversees the trauma ward in the emergency room of the Schneider Pediatric Center, has encountered numerous challenging situations throughout his career. He has gained experience in rescue operations at disaster sites, participated in relief missions following earthquakes, including a recent medical expedition to Turkey, and was also part of the childcare team at a field hospital established in Ukraine. However, nothing could have prepared him for the sights he witnessed when the conflict in southern Israel began.
Dr. Mashiach, a 52-year-old resident of Beit Elazari, is married and a father of five. He was called to duty on that fateful Saturday afternoon and serves as a member of the medical battalion of the Defense Ministry, responsible for evacuating casualties.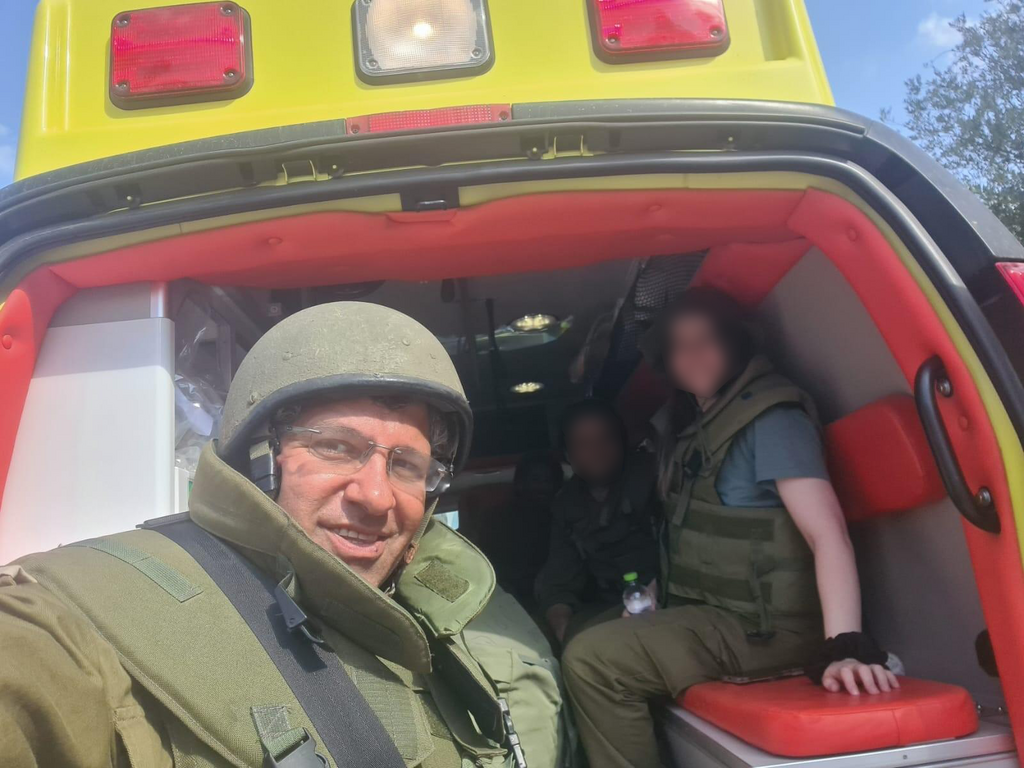 "Each ambulance was staffed with a senior therapist. We quickly made our way to the area surrounding the enclave, where we joined a team of approximately ten military ambulances. We set up base in an area that had been the site of heavy fighting and a brutal attack just a few hours earlier, leaving behind devastating consequences."
For three days, we evacuated casualties, primarily soldiers from surrounding settlements and areas near Gaza, who had suffered from rocket hits, gunfire, and burns. The majority of cases were classified as mild to moderate, and the more severe ones were airlifted. Some individuals sought treatment hours or even a day after their injuries because they chose to continue fighting until the situation was stabilized before seeking medical attention.
According to Dr. Mashiach, during the initial days, medical treatment was carried out amidst ongoing combat. "There was intense fighting all around us, with frequent encounters with terrorists. Rockets would suddenly strike without warning, and when the explosions multiplied, we would run to a bomb shelter.
"During one of our evacuations from the Barzilai Medical Center to the nearby community, our forces neutralized a terrorist on a motorcycle just 20 yards ahead of us, moments before our arrival. Although we primarily operated from a secure second line, exposure to such situations was unavoidable.
"Some team members became apprehensive about entering certain areas, and I never forced anyone to do so. However, there were those who gathered their courage and eventually joined in. This was a continuous, round-the-clock operation. We didn't have a fixed location; instead, we moved daily to different settlements or bases based on operational requirements, often changing our place of stay on a daily basis."
After a few days, when the initial intensity of the situation eased, Dr. Mashiach and his team shifted their focus to transferring the wounded between hospitals as required. Simultaneously, other medical teams from the field hospital unit undertook the important task of identifying soldiers and, subsequently, collecting DNA samples from the bodies of terrorists. Remarkably, they were able to identify some Israeli soldiers who had tragically lost their lives in the conflict.
"The volunteer mission was incredibly challenging, but it carries immense significance and value to me. This experience has placed me in a position where I am determined to do everything within my power to save lives and ensure the safety of my exceptional team, comprised of a driver and three paramedics. I cannot emphasize enough the incredible support we received from the communities we visited, as people arrived with remarkable and meaningful contributions to the conflict zones and gathering points.
"Even within my own community of Beit Elazari, there is a remarkable spirit of volunteerism. The medical teams and the community's preparedness class have organized themselves in an admirable manner. In my own household, everyone has been incredibly supportive, encouraging, and standing by us. At the clinic in Gedera where I work, we were fortunate to receive assistance from doctors who volunteered to provide care for our young patients while my colleagues and I were on duty. At Schneider, which feels like a second home to me, we mourn the loss of many doctors, including our resident doctor Yair Zaluf, may he rest in peace, who fell in battle."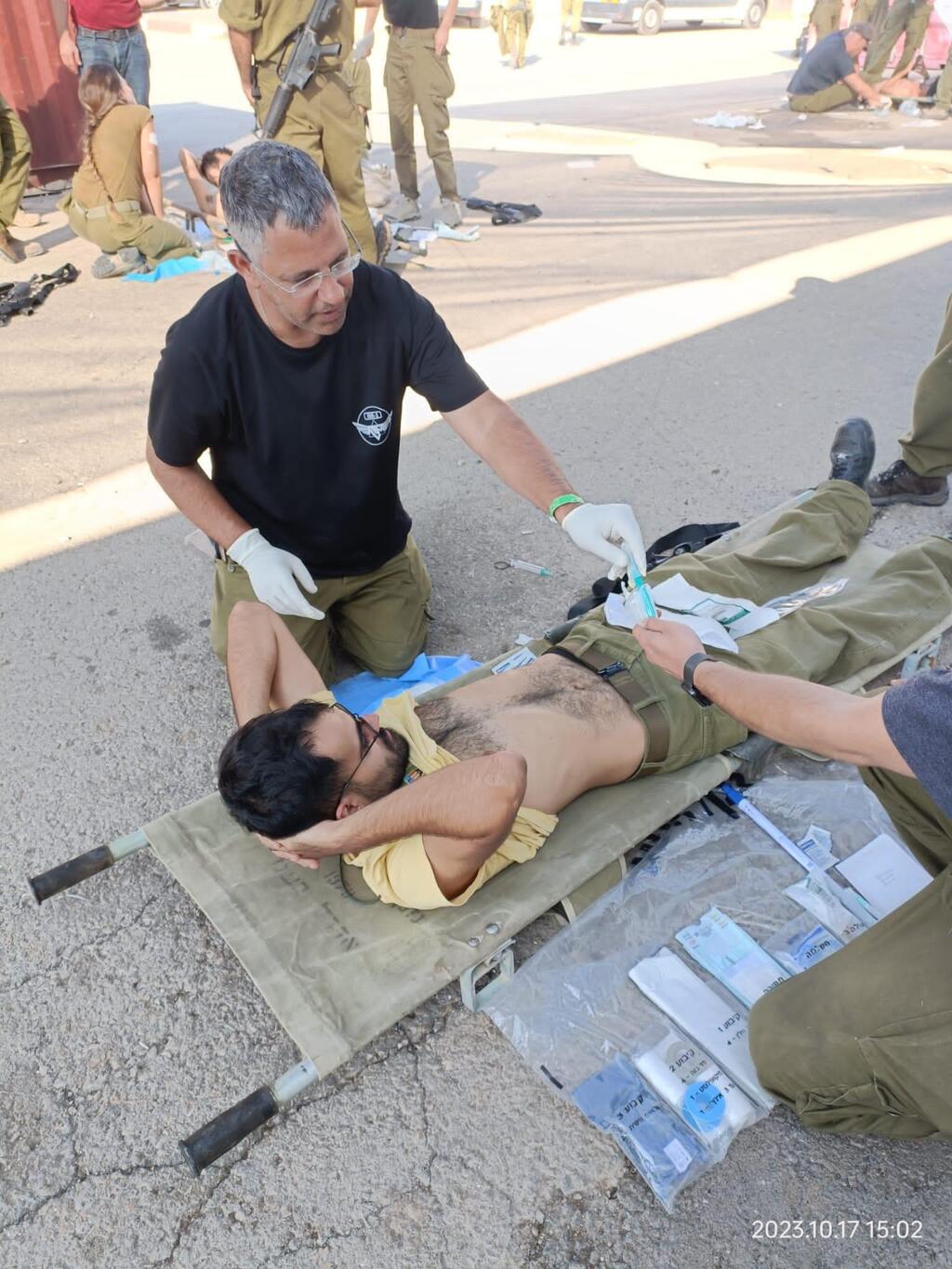 Dr. Mashiach notes that the remaining hospital teams are working much harder to cover the shifts of the drafted doctors. "Trauma and surgical departments have been reorganized, creating a trauma room and trauma teams, and implementing a rapid training program for the teams to be prepared to treat injured children when needed. I am reassured that there is comprehensive care available for the children, allowing us to focus on our mission. The support from the Home Front Command is immense and operates in every field. I received a donated ultrasound device worth tens of thousands of dollars, which helps us with field treatment, and this is just one example among many."
At the end of the week, Dr. Mashiach managed to visit home for a few hours and then returned to his duty. This week, the team, led by him, began training and medical preparedness at the Tze'elim base.
Dr. Shenkler: 'The soldier was trembling, asking for a hug'
Dr. Tzlil Shenkler, a senior pediatrician at the Wolfson Medical Center, also answered the call and arrived on the scene when the events began. Dr. Shenkler, a resident of Tel Aviv, serves as a reserve doctor in the anti-aircraft battalion of the Air Force, holding the rank of captain. He recounts, "I woke up on Saturday morning to the sound of the alarms. At that point, I still didn't fully grasp what was happening, so I proceeded to the children's ward since I was on call there.
"While attending to the hospitalized children, I received more and more information about the unfolding situation, alongside the continuous alarms and the transfer of patients to protected areas. Around noon, I received a call from the battalion commander, instructing me to report as soon as possible. I swiftly made arrangements, dropped off my dog at my brother's place, and hurried to the base. Throughout the journey, news updates kept pouring in about the escalating atrocities, which heightened both fear and the sense of duty to provide assistance on the ground."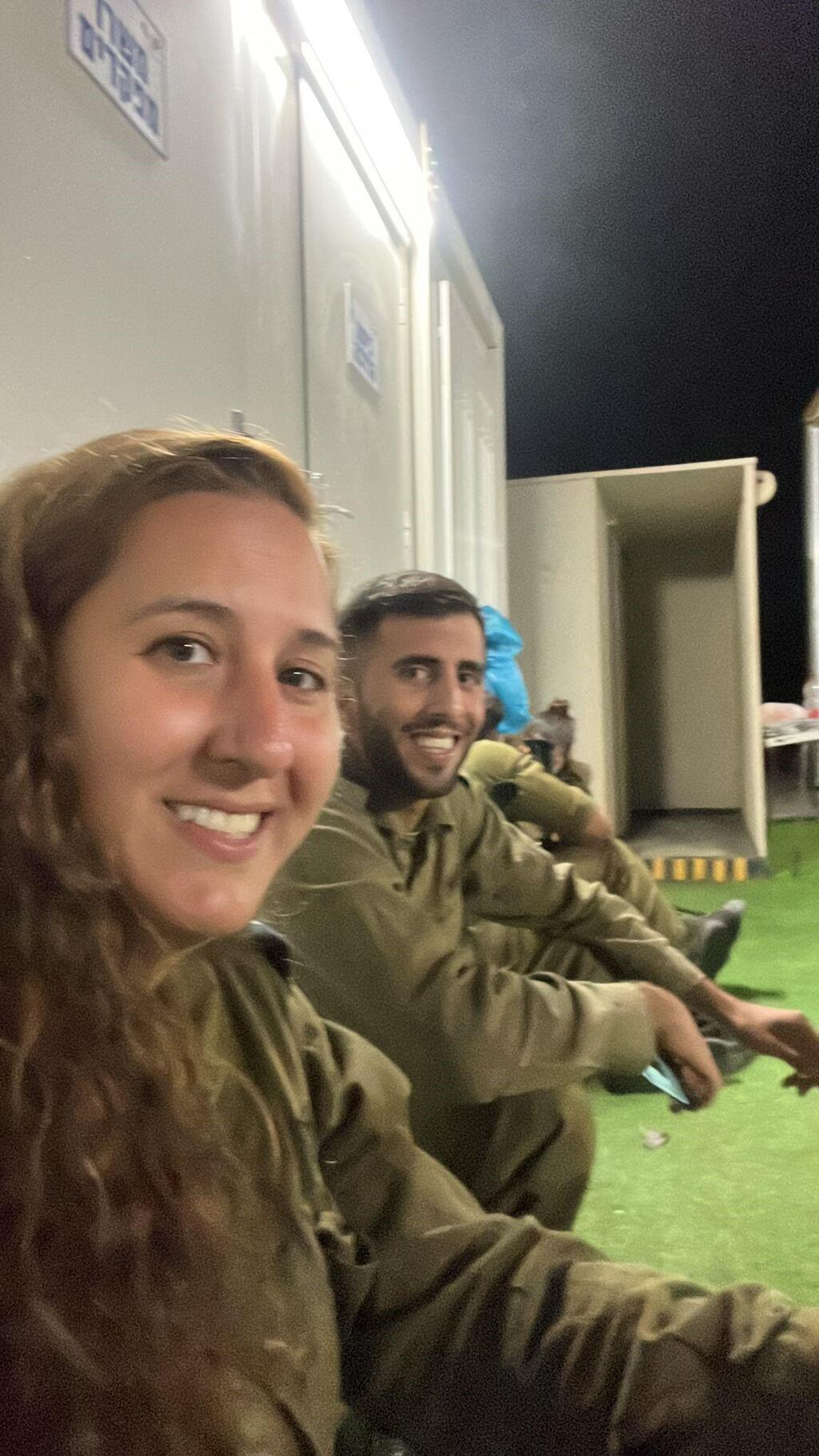 When Dr. Shenkler arrived at the base, she encountered a multitude of reserve soldiers of all ages and from all corners of the country, motivated to defend their homeland. "On the first day of the fighting, we all stood tightly packed in the protected areas amid relentless bombings, attempting to organize ourselves for the upcoming deployment. Standing before me was a young soldier, recently discharged just a few months before the start of the conflict, who had been called up to reserve duty. He stood in front of me, trembling and emotional, and asked for a hug. At that very moment, I truly understood the breadth of the role and the responsibility. Mental wounds are as deep as physical ones and require ongoing care throughout the tumultuous events."
"My team, consisting of ambulance driver Nachman Ben Simon and three paramedics, made preparations with personal and medical equipment before heading to the Sderot sector. Our goal was to provide initial medical response to the fighting forces in the area, while also assisting soldiers with routine medications and offering initial support to those experiencing anxiety. When I arrived, the initial shock had subsided, and the wounded had been evacuated from the area.
"However, there was a palpable sense of anxiety in the air, accompanied by the sounds of shelling and interceptions. Throughout our time there, we were constantly aware that danger could strike at any moment. There were instances of fear and heightened alertness due to the presence of terrorists. Despite the challenging circumstances, the soldiers around us demonstrated admirable composure and tried to maintain a sense of normalcy in what felt like a surreal movie-like reality."
Dr. Yochai Frenkel: 'Plenty of gaps had to be bridged'
In the northern sector, there is also Dr. Yochai Frenkel, a Pediatric medical resident at Rambam Health Care Campus. Dr. Frenkel, 37 years old and a resident of Atlit, married to Brit and the father of two children, aged five and three, was awakened on Saturday morning by his mother-in-law. He recounts, "She realized that something dramatic had happened in the Gaza Strip and talked about abductees and dead people. We didn't think it made sense. As time passed and we were exposed to the news, it dawned on us that something very bad is happening.
"When I received a call from my officer instructing me to prepare and report the next morning, it was a challenging moment for me as a family man. I understood that this was a situation faced by many families in Israel. My wife took the news particularly hard. Receiving a recruitment notice is never easy, and especially not under such circumstances and during such difficult times that the entire country is going through.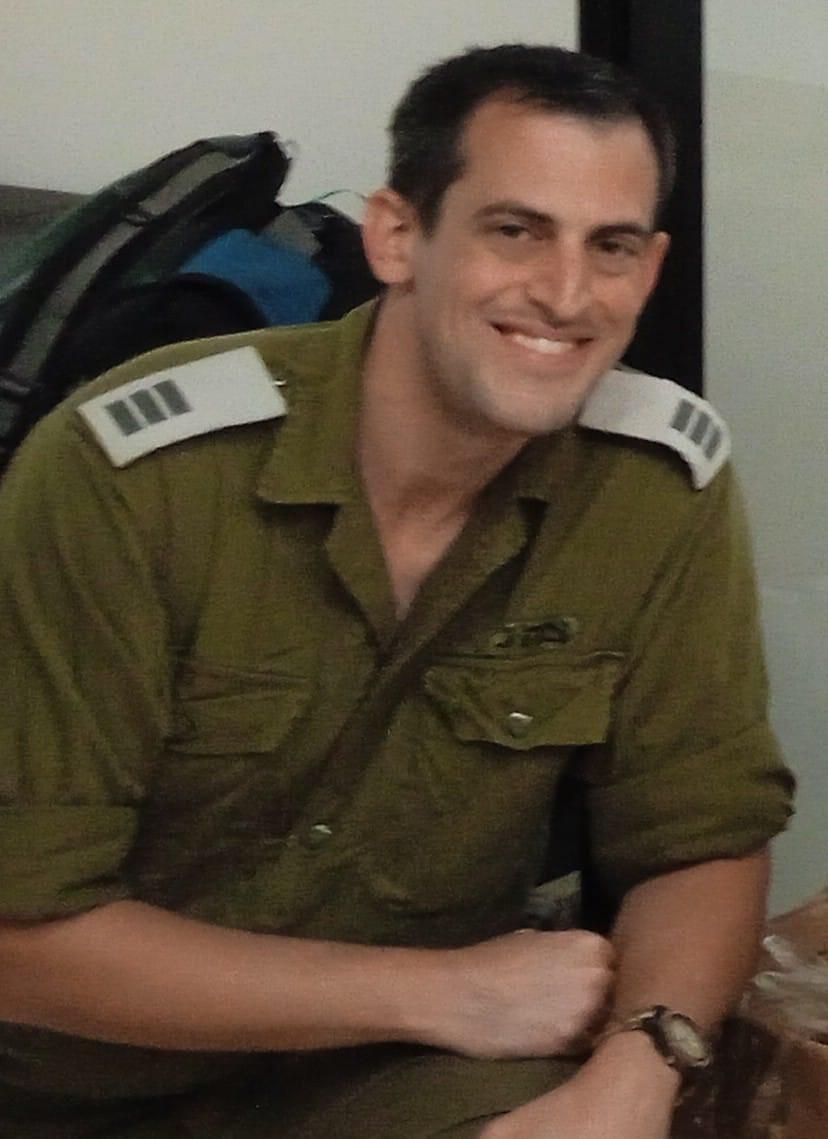 "The main challenge that I believe we faced was the overwhelming feeling of uncertainty. We started with a lot of gaps that needed to be filled, including team organization, equipment, and logistics. However, as time went on, things gradually improved and became more organized. In the beginning, especially during the first few days, it was incredibly challenging. I worked there for many days without a break, and it was only after more than a week that I was able to take a few hours to refresh myself at home, coincidentally on my birthday.
"The last time I was conscripted was during the 2012 incursion into Gaza, and I never thought I would find myself in a similar situation again. Having served extensively in the past, I felt that now, as a family man, things would be different. Yet, here I am once again, in the midst of it all, doing my best. As doctors in Israel, we are always prepared and ready for significant events that may result in numerous injuries. We have experienced this before during the Mt. Miron disaster, where Rambam Hospital received a significant number of casualties. Working in a high-capacity hospital, even as pediatrician, has prepared me mentally for situations like the current one, where sleep deprivation and similar challenges arise."
Dr. Frenkel is moved by the enormous support from the public. "There is an incredible amount of support and love coming from the interns, senior doctors, my manager, and the nurses. Everyone is genuinely interested and concerned, going out of their way to ensure my wife's happiness by sending her something over the weekend. It's heartwarming to witness such care and compassion. Reflecting on the state of the country prior to this disaster, where chaos and an atmosphere of violence prevailed, I can't help but feel a profound shift. Today, there is an atmosphere of unity, generosity, and selflessness. It is truly moving and empowering. I am immensely proud to be part of this nation and to fight for it."