Shortly after recovering from the shock of September 11, Time Out New York magazine launched an ad campaign proclaiming, "Welcome to New York, now please leave." This slogan was plastered on posters and billboards all over the city and in subway stations. The magazine urged tourists to come to the city and get all the information it has to offer every day, around the clock.
Behind this marketing campaign was the desire to reach out to tourists coming to New York. In contrast, in various European cities, where the number of tourists is on the rise, a very different campaign has been unfolding over the past year: Europeans don't wish tourists to visit, and if they do, they better leave quickly.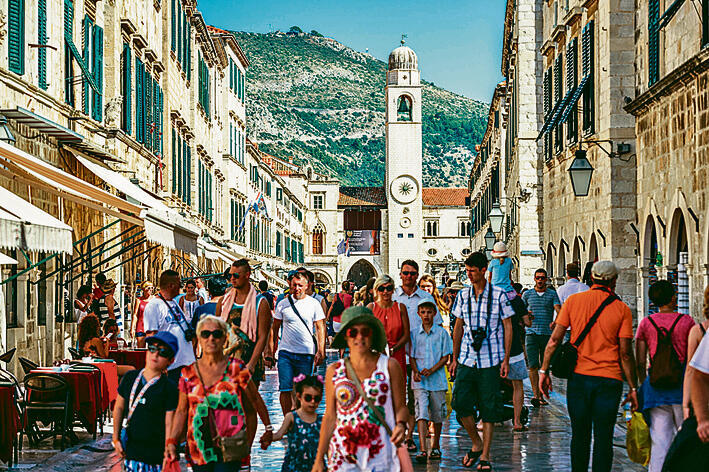 What has led European cities, where tourism makes up a significant part of their economy, to turn away from tourists? Each city has its own story, but they share a common denominator: the locals feel that the sheer volume of tourists, who sometimes arrive by the tens of thousands each day, is flooding their homes and disrupting their routines.
According to an annual index comparing locals to tourists, Dubrovnik, Croatia, is the most visited place in the world. Just over 40,000 residents call this beautiful town home, but it experienced a tourism boom thanks to its role as the set of Game of Thrones. Every year, nearly 1.5 million tourists arrive there.
The massive tourism influx has disrupted the daily lives of the locals. Roads and sidewalks are crowded, and prices have skyrocketed. Local authorities have limited the number of tourists allowed into the Old Town to 8,000 per day, enforced with hundreds of cameras and monitoring by local inspectors.
Café and restaurant patrons in the Old Town generate loud noise that disturbs the rest of the locals, especially at night. To reduce noise, city officials decided to implement two measures: restaurant and café owners must bring goods and deliver food to residents' homes only using electric vehicles. Tourists are prohibited from dragging suitcases using their wheels and must carry them by hand.
The city's authorities have also enacted attire regulations for walking in its streets. For instance, walking shirtless or in swimwear is prohibited. Tourists face fines of up to €4,000 for violations like excessive alcohol consumption, fighting, sleeping in public spaces and public urination.
The Austrian village with its 800 residents, its lake, picturesque houses, cobblestone streets and the backdrop of the Alps, impressed the Chinese so much that in 2011, they decided to build a replica of it in their country. Yet, the village continues to receive unbearable numbers of tourists, including many from China who wish to see it.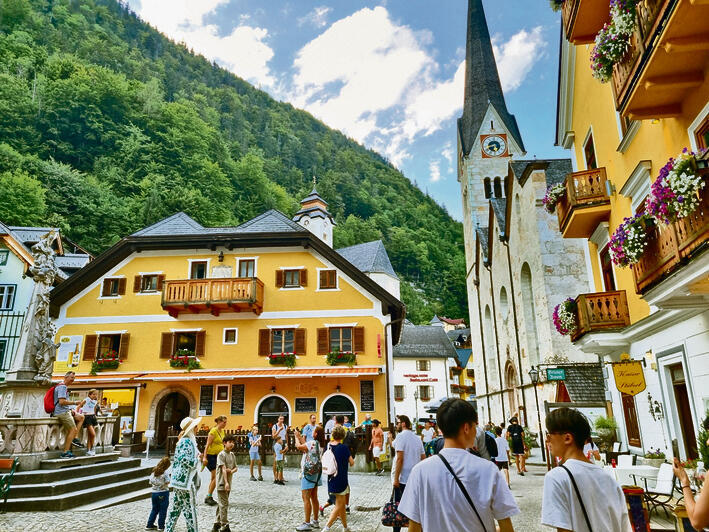 The residents have had enough. They built a tall wooden wall at the most popular photography and selfie spot to obstruct any chance of getting a backdrop of the Alps. Recently, locals also blocked the entrances to the village on several occasions to prevent buses from entering. They are, of course, happy about the booming tourism, but the sheer number of visitors has negatively impacted their quality of life. Due to the village's location, it has no room to expand, and a million tourists coming to the village annually spell a nightmare for its residents.
Local authorities have decided to reduce the number of buses allowed into the village from 80 to 50 per day, and visitors can only stay in the settlement for two hours and twenty minutes. In addition, fines are imposed on buses parking outside the village and allowing tourists to enter on foot.
Barcelona also embraced the positive aspects of the COVID-19 pandemic. The Catalan city with its 1.6 million residents receives 20 million tourists every year. The pandemic led many locals to return to places where they used to go and relax.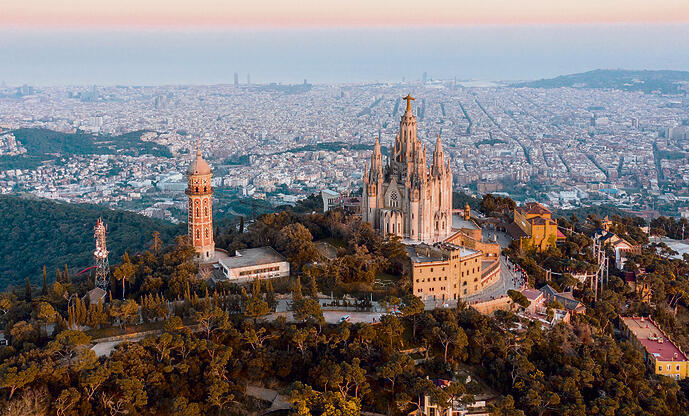 Garbage collection was easily done, air pollution and noise levels decreased and traveling on public transport was no longer a claustrophobic experience. Most importantly, the city, the emblem of the Catalan people, has once again become a normal urban community.
But then the pandemic ended. Barcelona, which became a major tourist hub, especially after hosting the 1992 Olympic Games, has been fighting to limit tourists over the last decade. The municipality restricted the number of beds allowed in hotels and banned the construction of new hotels, especially in historic districts. Plans to expand the airport, which were supposed to increase passenger capacity by 60%, were also canceled.
Homeowners who want to rent out their apartments must obtain a license. Regulation of Airbnb apartments became stricter. Tourist groups are limited to 30 people, and guides must use earphones and are prohibited from using megaphones. Taxes were also imposed on tourists arriving in Barcelona on cruise ships, in addition to the city's nightly fee. Museums charge entrance fees for guests, unlike locals who enter for free.
Estimates suggest that in 2022, 12.5 million tourists arrived in Barcelona, a relatively low figure. However, these tourists spent more nights in the city and spent more money there.
There are many attractions in Amsterdam, a city of 800,000 residents that hosts 20 million tourists a year. The marvelous architecture, impressive museums and calming canals make it a captivating destination. However, the Dutch city has also gained notoriety as the capital of liberal indulgence, where you can toke up in coffee shops, imbibe alcohol all day long and visit the red-light district.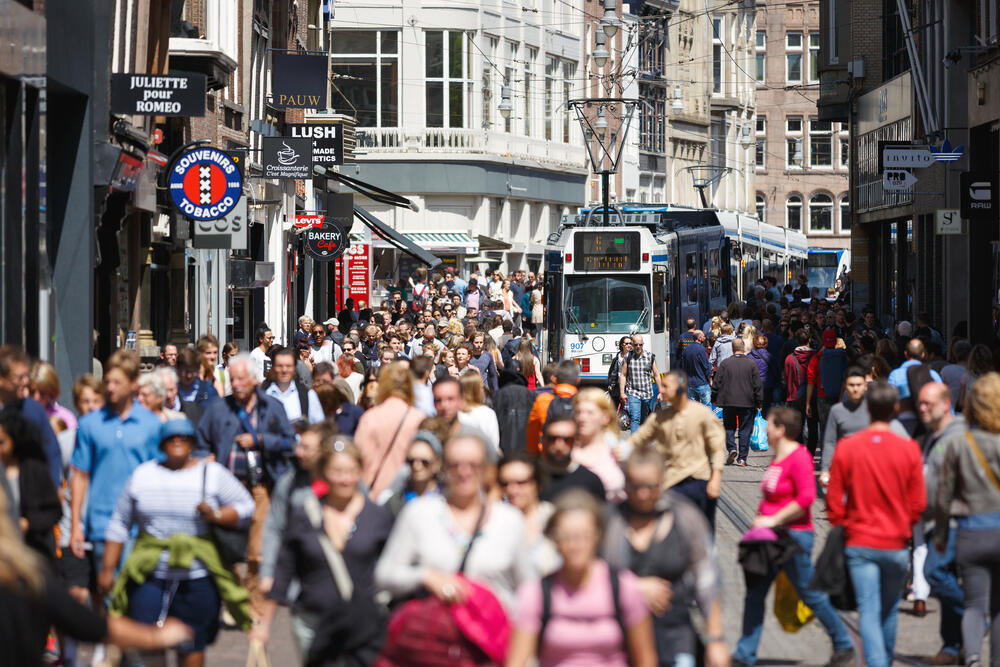 It's no wonder that the city's first target in the fight to stem the tide of visitors, which included analyzing the impact on its tourism image, was British youths, perhaps the largest and loudest group visiting Amsterdam.
The campaign against British tourists was called "Stay Away." It included signs in English that reminded guests that public urination was strictly prohibited. Later, it was decided to ban smoking cannabis in the red-light district. In the summer, the city decided to prohibit tourist boats from entering the city center.
On the other hand, the city cooperates with business owners, providing bonuses to bike rental shops and tour organizers if they take tourists out of the city center. Amsterdam also monitors the number of passengers at Schiphol, the local airport, no longer allowing the construction of hotels and not issuing more licenses for souvenir and cheese shops.
To ensure the locals don't feel like tourists in their own homes, local authorities limited the number of days that a property could be rented out through Airbnb to 30 per year. Fines for public indecency were increased. Those caught must pay immediately, or else they'll spend a night in the pound. Drinking alcohol in public warrants a €95 fine. Riding rented bikes recklessly will cost you €95. A fine for excessive noise is €140, and littering has a similar €140 price tag.
Locals are pleased with the new regulations and expect the revenue to aid in infrastructure development. However, many of them still haven't removed the sign from their windows, reminding tourists: "We live here."
The picturesque city of Bruges in northwestern Belgium has earned the nickname "Venice of the North." Much like its Italian namesake, it's sinking under waves of tourists that keep increasing. Every year, the number grows by ten percent. In 2022, more than eight million tourists visited, making life difficult for the city's 120,000 residents.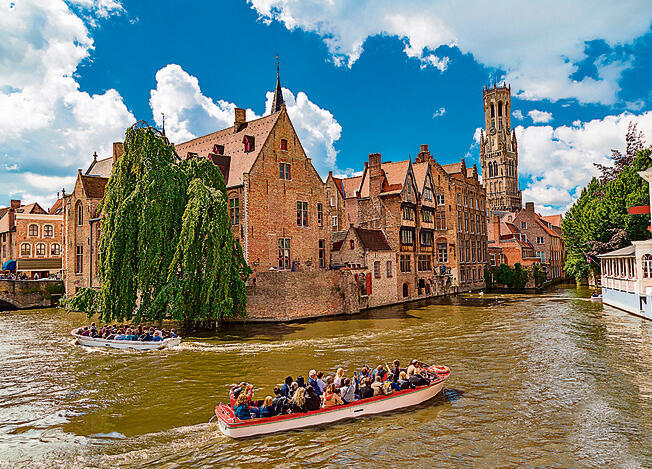 Local authorities only allow two ships to dock in the harbor, compared to five in previous years. Guests coming for a quick visit aren't desired in the city. Tourist groups arrive by buses from the ships, stay for just a few hours, and spend half the amount a tourist staying overnight would pay. "We want tourists who stay for several days, eat well and visit museums," said Mayor Dirk De fauw.
To prevent central Bruges from becoming a museum devoid of its residents, the city council grants tax breaks to residents and students living in the historic districts. Airbnb rentals are very common in this area, at the expense of local residents who can't afford to live there. And still, many apartments stand empty around different times of the year.
Another problem is the lack of shops that serve the locals in these areas. Souvenir shops take up all the real-estate space supermarkets, butcher shops and local restaurants need. A war has broken out against stores that sell beer and chocolate to tourists, "harming the local charm."
The number of visitors to Ghent, in central Belgium, is still manageable and proportionate to its size and population. However, tourism officials decided to act before it reached Bruges's level.
Starting in July, the city no longer issues hospitality licenses, from hotels to hostels. Next year, a €6 per day tax will be levied on short-term rental apartments. It's not certain that all these measures will help, but Ghent is taking proactive measures against tourist influx.
Planning to visit Venice? It's advisable to buy tickets in advance. Under a recently approved regulation, all tourists entering the city will be required to pre-book an entry permit, costing five euros as a sort of tourist tax.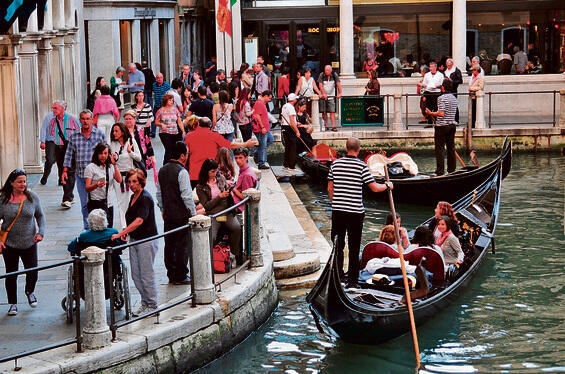 Those who don't purchase the ticket could face fines of up to €300. The measure will come into effect during the weekends in the spring and the summer of 2024 for a trial period of one month. However, anyone staying overnight in Venice will still need the ticket but won't have to pay for it.
In 2025, the city's 50,000 Venetians will host approximately 38 million tourists. They are particularly fed up with "hit-and-run tourism," as day-trippers flood the city during the day but leave to eat and sleep elsewhere at night, especially on cruises.
This accounts for 73% of visitors who contribute only 18% of the sector's revenue. It's also worth considering the damage caused by massive cruise ships to the ecological balance of the city's lagoon or to the city's numerous palaces – some recognized as UNESCO heritage sites – slowly sinking underwater.
In Florence, the situation is similar. The city has banned tourists' cars from entering the historical center and announced that no more licenses will be granted for short-term rental apartments in certain districts. 75% of these apartments are concentrated in just five percent of the city's perimeter.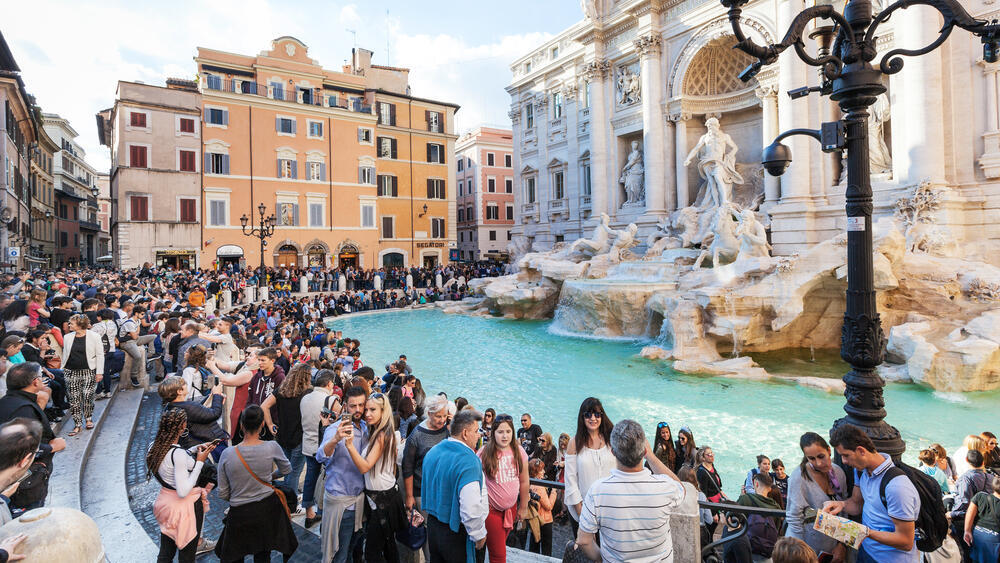 The issue that really angers Florentines, and even residents of the capital Rome, are tourists who fall asleep at heritage sites, eat on the steps of churches and use public gardens as restrooms. Now, unruly tourists will face a €500 fine if, for example, they eat in Piazza degli Uffizi in Florence during lunch and dinner hours.
Another example is Portofino, once a peaceful fishing village in the northwest of the country, now a nightmare for its 379 residents. The Italian tourist gem made headlines recently when the British press reported that tourists risk fines ranging from €65 to €275 if they stop to take selfies along the docks or in the main square.
"People need to understand that this is our main road, and they need to leave it open for emergency cases," explained the town's mayor, Matteo Viacava. Authorities have also banned tourists from wearing swimwear. "To ensure everyone has a good time, we ask them to respect our town," Viacava added.
The French Tourism Ministry recently made an enthusiastic call to influencers in the field. "Please promote new sites in the country." The French aim to continue preserving their position as the world's leading tourist destination. However, they also want to expose visitors to additional places, particularly in light of the well-known crowding in certain sites, as they prepare for the upcoming Olympic Games in Paris next summer.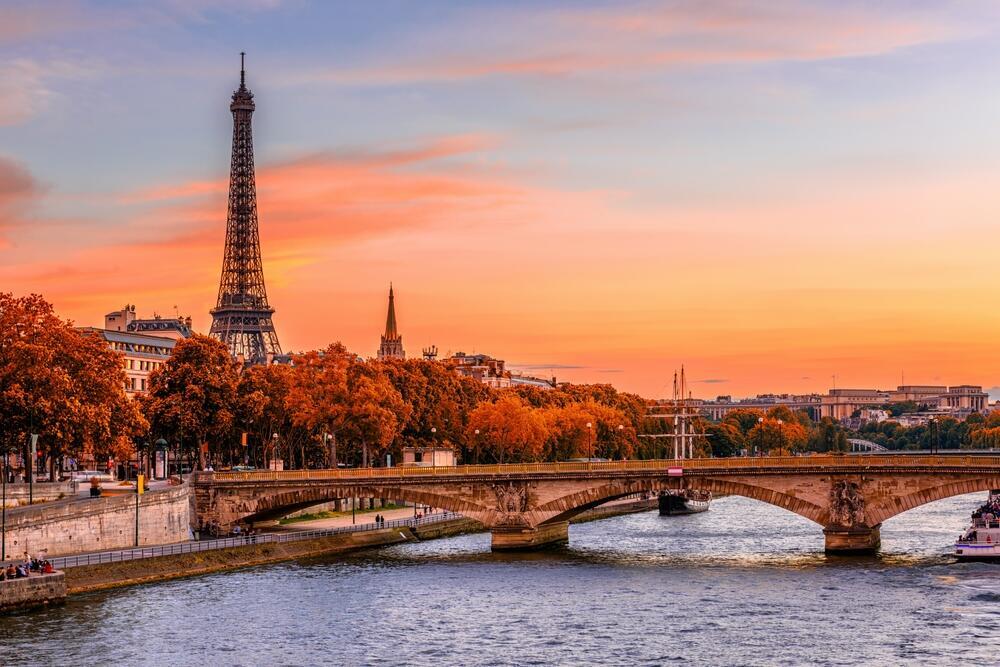 The small bays of Cassis near Marseille in the south of the country were once a local secret, where residents arrived in small boats to enjoy the turquoise waters. Today, the Tourism Ministry restricts the number of visitors in some areas to 400 people per day. The nearby Porquerolles Island in southern France and its nature reserve have also started selling tickets and limit the daily number of visitors to 6,000.
Another site that has become an attraction, after it was used as set in the series Lupin, starring Omar Sy, is the Etretat Cliffs in Normandy. Three rockslides were recorded in the area this year, and the sculpted and impressive landscape is slowly eroding, with none of the 900,000 visitors who posted pictures of it in 2022 taking notice. Local authorities were forced to fence the path to the site, add new parking lots, and are now considering limiting the number of visitors.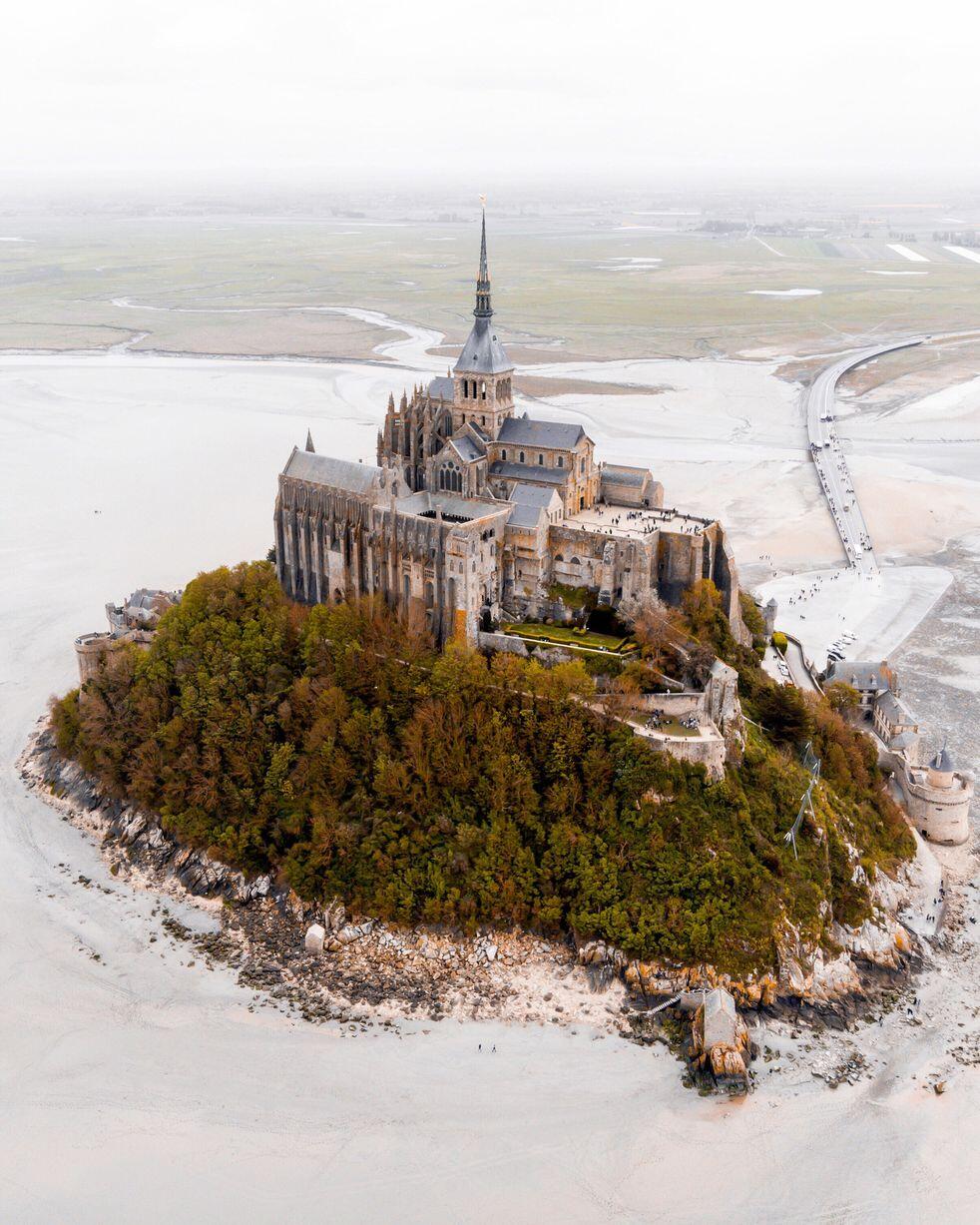 2.5 million tourists visit the narrow streets of Mont Saint-Michel in Normandy each year. It's very difficult to reach the magical monastery dating back to the 13th century, which is the second most visited site in France after Paris. After moving parking lots about three kilometers from the island, the Tourism Ministry also seeks to limit the number of visitors to the site.
The most serious confrontation against tourists occurred at the summit of Mont Blanc in the Alps, between France and Italy. Every year, 25,000 hikers attempt to reach its challenging peaks, and not all behave appropriately. Issues include littering the mountains and climbing on unauthorized routes. Authorities have capped accommodation in huts there at 240 visitors and require those interested to book in advance to prevent overcrowding.