Hundreds gathered at the Western Wall to pray for the safe return of the hostages held by Hamas in Gaza, and for the success of the Israel Defense Forces in destroying Hamas in Gaza, under the banner "All of Israel is responsible for one another." The prayers were led by Avichai Brodtz, whose wife and three children are among the abductees.
"The message I want to convey here from this holy place is to remind everyone of the importance of family and the significance of children for their father and of a wife for her husband. I believe that this is what strengthens and unites all of us, the love of a father for his family. To remind everyone that this is what matters most to us also as a nation, and to strive for them to return as soon as possible," Brodtz told those gathered at the Western Wall Plaza on Thursday afternoon.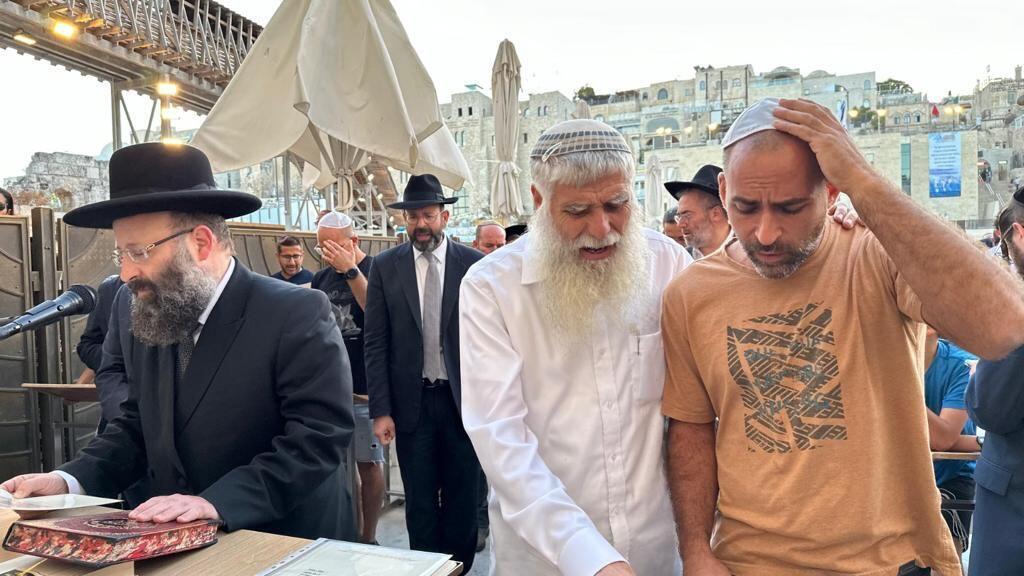 The ceremony began with the recitation of Avinu Malkeinu (Our Father, Our King), followed by psalms recited by the rabbi of the Western Wall and holy sites, Rabbi Shmuel Rabinowitz. The rabbi then offered a prayer for the swift return of the abductees to their homes in peace and for the success of the IDF soldiers and security forces. At the conclusion of the ceremony, the participants said a prayer for the well-being of the State of Israel and together sang "Our Brothers, all the House of Israel."
Rabbi Shmuel Rabinowitz said: "From the united place of the people of Israel, the Western Wall, together with the united people, we prayed for the return of the captives and the missing and for the well-being of the IDF soldiers and the security forces. With the power of unity and prayer, we will defeat our enemies and bring our captives home."
The event was broadcast live, and thousands joined from their homes to pray together for the rapid return of the abductees.
The service is taking place 13 days after Hamas terrorists broke through the border fence between Israel and Gaza and massacred more than 1,300 people, including elderly, women and children. At least 200 Israelis are believed to be held hostage in Gaza.
First published: 17:43, 10.19.23