A can of Zyklon B gas used by the Nazis to murder Jews in the gas chambers, yellow stars, one of which was ripped off the prisoner uniform of a death camp, and the armband of Jewish ghetto police, are just some of the artifacts that will come on sale in a public auction by Antique Arena in New York on Saturday.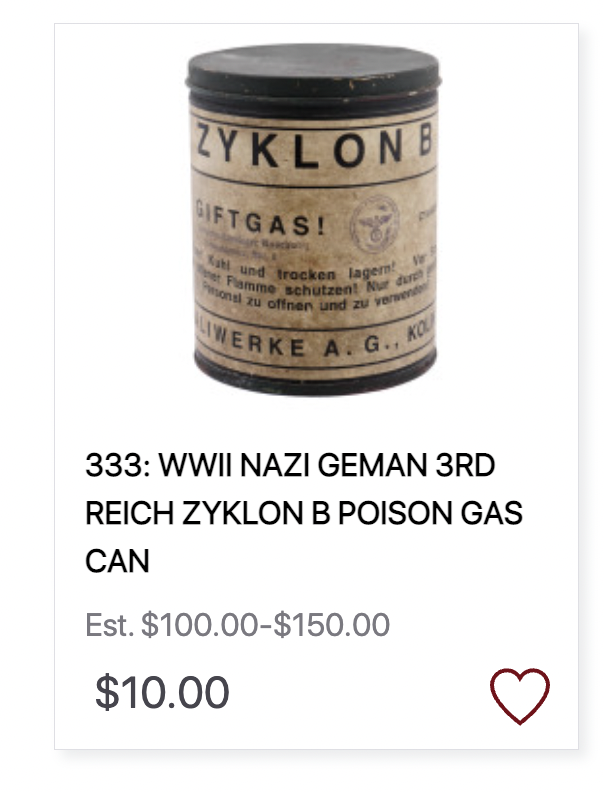 The auction house which describes itself as the "largest online market for art, antiques and collectibles in the world," offers Nazi memorabilia but does not specify the origins of the artifacts or who they had belonged to. Among the items for sale are letters written by prisoners in Dachau and Auschwitz, propaganda posters, Nazi military uniforms, and even a bust of Hitler.
The items will come up for sale at a starting price of $10 and are valued at prices ranging from $100 to $150. Although there is little in the way of explanation for most of the artifacts, yellow star do come with a description:
"fabric armbands in the shape of the Star of David. The items have inscription Jew in African, Dutch, and French. During World War II Jewish people living in Germany or in occupied territories were forced to wear Magen David armbands. Overall good vintage condition. Signs of age and wear. Refer to photos. Sold as is."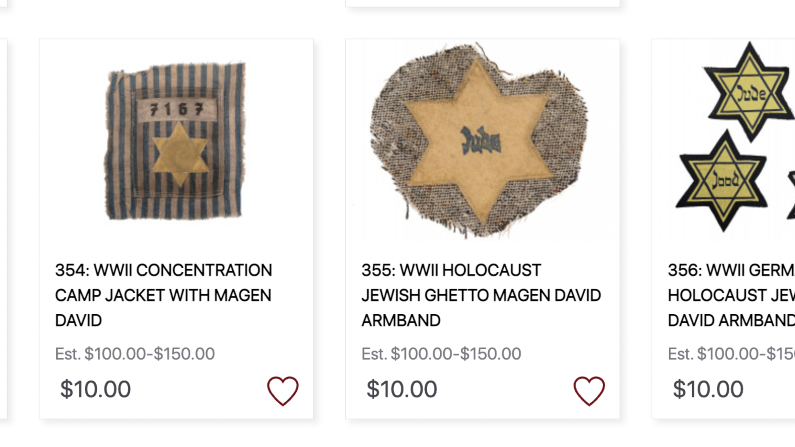 The sellers boast of having sold an SS officer's cap for $2,300 dollars in the past, a street sign with a swastika for $192 and a knife allegedly designed for Eva Braun for $480.
Large public auctions are prohibited from selling Nazi artifacts, as is e-Bay but the sale of such items is still widespread in the U.S. and by some estimates, constitutes half of the militaria sales. Still, items from the Holocaust, as offered by Antique Arena's upcoming auction, are rare.
On sale on Saturday, will also be Soviet propaganda posters and items that are not related to WWII or the Holocaust including prints of paintings and sculptures, among them one work of the late Israeli artist Aharon Bezalel and graphic designer Ilan Molcho