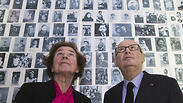 Beate (L) and Serge Klarsfeld
Photo: AP
Little-known face of famed Nazi hunters shown in Paris
Paris Holocaust Memorial inaugurates exhibition on famed Nazi hunting couple Beate and Serge Klarsfeld, who have brought Nazi war criminals such as 'Butcher of Lyon' Klaus Barbie to justice; exhibition, titled ' Beate and Serge Klarsfeld, Fighters for Memory', to run until April, showcases couple's personal archives, new video footage; 'Parts of their story are known, but we are showing they are not just Nazi hunters,' says curator.
Their heroic quest to bring down fugitive Nazis such as the so-called "Butcher of Lyon" is widely known. But there's more—a lot more—to the steely, yet unassuming, married duo of Nazi hunters Beate and Serge Klarsfeld, and a new exhibition in Paris is looking to tell that tale.

The French capital's Shoah Memorial is this week hosting the world's first-ever exhibition into their story. Using personal archives, including previously unseen video, "Beate and Serge Klarsfeld, Fighters for Memory" seeks to explain the couple's fight to a new generation. It opens Thursday and runs until April 29.

The aim of the exhibition, say the organizers, is to show how Beate, 78, and Serge, 82, did much more than hunt Nazis, as is often portrayed in the media and in a 1986 film starring the late Farrah Fawcett. Notably, the devoted husband and wife team, married since 1963, played a pivotal role in understanding the horrors of the Final Solution in occupied France.

"Yes, parts of their story are known," curator Olivier Lalieu said. "But we are showing that they are not just Nazi hunters ... Serge is a historian and pioneer in the writing about the persecution of Jews. They added much to our understanding of what happened during the Holocaust."

The exhibition's timing was chosen carefully, coming five decades since Beate gained international attention for exposing the Nazi ties of West German Chancellor Kurt Georg Kiesinger in 1968, and four decades after the publishing of Serge's book, "Memorial of the Deportation of French Jews."




Objects steeped in memory add fresh color to their story—such as the lock that Beate used to chain herself to a La Paz bench in a famed 1972 protest against the "Butcher of Lyon," Klaus Barbie, who had fled Europe, changed identity and sought protection by the then Bolivian dictatorship. After the fall of the regime, Barbie was finally extradited to France in 1983, where he was convicted of crimes against humanity.

The exhibition also seeks to shed light on the personal dimension to Serge Klarsfeld's fight against impunity for perpetrators of the Holocaust. A French Jew, he managed to escape the Gestapo in Nice in 1943. His father, Arno, was captured and deported to the Auschwitz-Birkenau concentration camp, where he died.

During an interview with The Associated Press, Serge Klarsfeld solemnly located his father's name on the wall at the Shoah Memorial. It lists the names of 76,000 Jews who were deported from France as part of the Nazi plan to eradicate Jews of Europe.

"We must continue fighting every day," he said.




The couple hopes that future generations can take something away from their activism against extremism and hatred and quell the rise of the far right.

"Young people will perhaps find an example in what we did, hopefully in this retrospective," Serge said.

With youthful fire in her eyes, Beate warned against complacency, pointing to the recent successes of nationalist parties in France, Germany and other places in Europe, particularly in the east.




"The young people have to engage themselves," she said. "They can take this message from our actions, in the photos. We had the strength to do it. If the young people have the strength? I don't know. I hope."

As for the media attention, they're used to it following the movies, a myriad of documentaries and a swathe of articles.

The real emotion, according to Serge, is being present at the Shoah Memorial and alongside the millions of documents it houses that the Nazi hunting couple relied on to carry out their decades-long investigations and protests around the world.




Those archives, bristling with vital information, helped the Klarsfelds—among other things—bring justice to former Nazis Kurt Lischka, Herbert Hagen and Ernst Heinrichsohn who were convicted in the German city of Cologne in 1980 over the deportation and murder of 40,000 French Jews.

"We always paid homage to the Memorial because they helped us with archives. And today, it is the memorial that pays homage to us when we are old," Serge said, looking to his wife.