In light of a series of interest rate hikes over the past year, the largest Israeli banks recently released their financial reports for the first financial quarter of 2023, revealing record-breaking profits exceeding 6.25 billion shekels ($1.7 billion). The reports underscore the banks' sustained financial success amid prevailing market conditions.
In anticipation of the most recent interest rate hike, marking the tenth consecutive increase, announced Monday by the Bank of Israel, the new rate of 0.25% came into effect.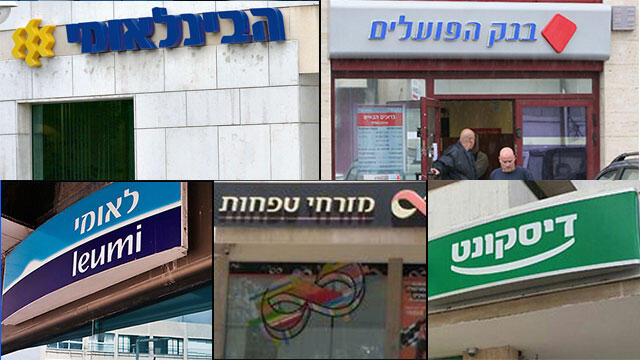 Consequently, the base interest rate in Israel skyrocketed to an exceptionally high 4.75%, while the prime rate surged to 6.25%. These figures illustrate the substantial impact of the interest rate policy on the Israel's financial landscape.
Undoubtedly, the surge in revenues and subsequent net profits of the prominent banks is largely influenced by the Bank of Israel's successive interest rate hikes.
These policy adjustments directly impact the banking sector's "margin," referring to the disparity between lending rates imposed by the banks and the interest rates offered on deposits. It is evident that the interest rate increases have played a significant role in bolstering the financial performance of the major banks.
Notwithstanding the substantial surge in revenues and profits witnessed by the major banks, the trajectory of their respective shares has displayed notable divergence throughout the period of interest rate hikes.
This divergence can be largely attributed to the challenging conditions prevailing in the capital market, particularly the recent global banking crisis that has reverberated throughout the financial landscape in Israel since the start of the year.
The major banks in Israel, in line with their substantial profits, have disbursed significant dividends to investors over the past year and a half:
Bank Hapoalim will distribute approximately $230 million in Q1 2023, following a distribution of $445 million in 2022;
Bank Leumi will distribute around $85 million after distributing $515 million last year;
Discount Bank will distribute approximately $111 million after distributing $180 million last year;
Mizrahi Tefahot will distribute around $119 million after distributing $289 million last year;
The International Bank will distribute approximately $63 million after distributing $270 million last year.