As the holiday of Shavuot nears and families prepare to gather for a celebratory meal, Ynet presents options for your table decorations to fit any family's happy occasion with the understanding that the proper styling can contribute to the festivities, the esthetics and the general holiday spirit.
White is the dominant color in most homes, according to studies conducted by paint manufacturers and is still the most popular choice of color.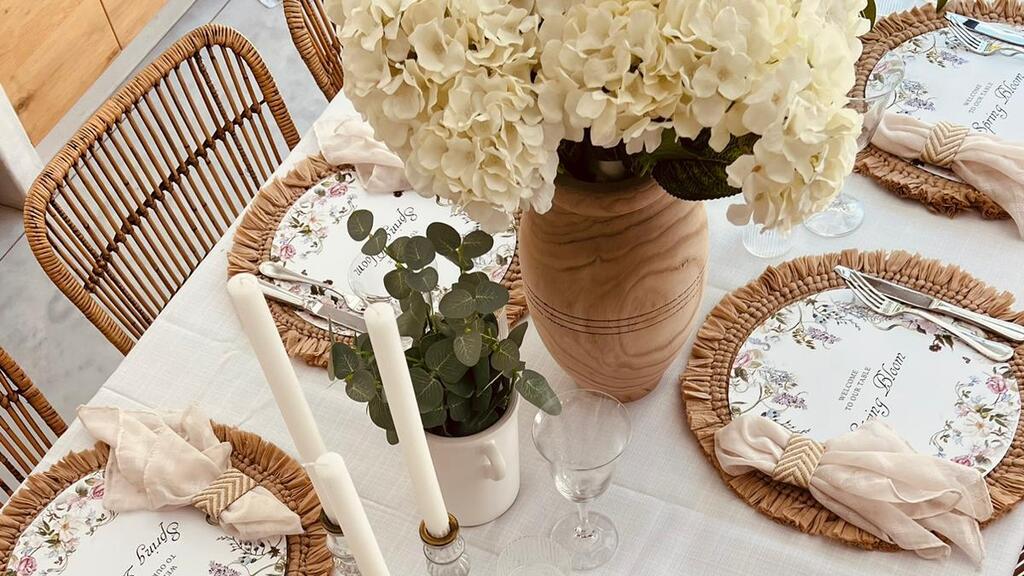 "Clients prepare to invest in white which is a backdrop for most styles," Tambur paints designer Niva Yehuav says. "It can evoke nostalgic feelings and goes well with vintage serving dishes, providing an elegant and rich appearance, at no effort at all," she says.
Stylist and food photographer Keren Barak says her white colored home is always open for a gathering. She says her secret is in the dishes which she selects carefully and has on hand for all occasions. "Its like picking your clothes or furniture," she says.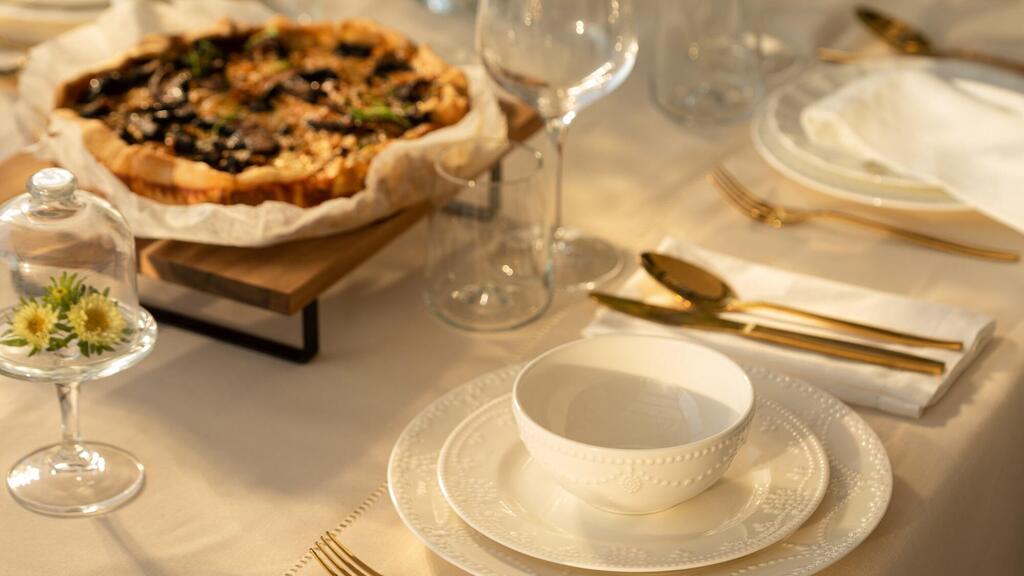 To make the most of your white Shavuot setting plan your dishes ahead. If they too are white, add color to them with the likes of chives, or red peppers. It will make them look more appetizing.
To give your table a less formal and more rustic look, add elements such as vine leaves to the plates, wooden picks for your hard cheeses and pottery serving dishes or utensils and elements from the outdoors such as cotton branches, straw or wheat stocks. The rule is to keep white dominant but add color around it.
White also complements gold and silver and other metals such as bronze. You can add candle sticks to your setting or use silver or gold cutlery, dish warmers, or ornaments to bring extra elegance.
To avoid the white color becoming overpowering, use glass dishes to allow light to reflect through and please don't place soft drink bottles on the table.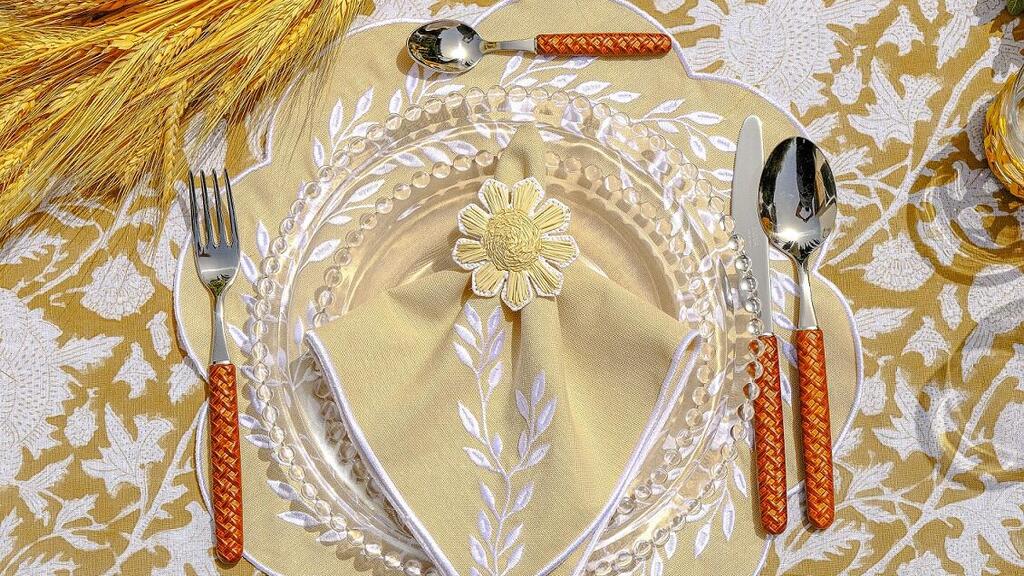 Layering with white also softens its effect in a play of Tone Sur Tone that can include textiles and dishes, pearl color cups or weaved ornaments placed at the center of the table to bring depth to the look. You can even bring black onto the scene to accentuate the white, with thin black lines on the tablecloth or napkins.
Although traditionally white is the color most associated with Shavuot, it blends easily with a colorful table design to bring a surprising elegance to your meal.
When using color, try not to overwhelm the visual effect by incorporating soft colors together.
" Some color combinations work always, and they can be borrowed from the world of fashion," Barak says. "An Orange soup would look great in a light blue dish so decide how to play with food and color ahead of time."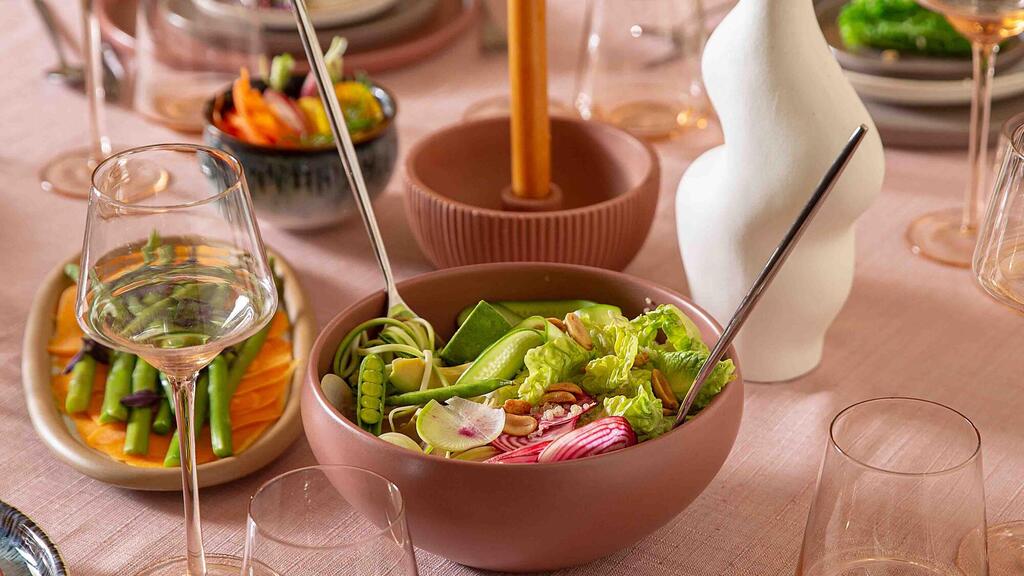 Spring brings with it flowers of all colors, so the choices are plenty when placing flower arrangements on the holiday table. The latest trends include dishes with floral designs on them. Natural materials will provide a calming effect, as with white, use straw, bamboo, wood, or pottery alongside your most dominant color, or mix dishes from different sets to add interest.
The color block trend from the past decade can also be used with two to three colors providing an amazing and unusual look. They can be on dishes or ornaments.
For those less daring, white can be there on the tablecloth as a backdrop to bold-colored dishes or napkins and semi-translucid dishes can showcase color in a lighter way, without the table feeling overloaded with stimuli.