Israeli pop star and Eurovision contestant Noa Kirel was ranked first on PPlus's list of the 50 most beautiful and influential Israeli entertainers for 2023 and shared all about her accomplishments and plans for the future.
"It's a very prestigious title that I look forward to every year. I have goals of where I want to be placed on the list and like to achieve them," Kirel says.
Do you feel beautiful and influential?
"I think so, It's a process you need to go through, I don't think anyone can feel it completely. I'm getting support from everyone in Israel and it makes me feel incredible."
How does it feel to be the biggest star in Israel?
"It's crazy. I don't think it's something you can fully grasp. I worked incredibly hard and I'm still working towards it. It's insane."
What does it really mean to be a star on your level?
"It's funny to think so but in day-to-day life, I don't feel like a star. I work hard, I hustle. I go from place to place, I perform, I do 17 shows a week, release a song, do press events that last until three in the morning, and go back to work. So, I don't really feel like a star, but that's also what keeps me grounded."
"It isn't as simple as just making a song and being done. It's hard work. I have three minutes to present myself to the world"
Kirel expresses everything that makes her both a star and a self-made success story. From a young age, she set goals and directed herself toward achieving them. Even if it comes at a price.
"I just feel like I was born this way. It's something that can't be stopped. They saw it from a young age, it's authentic, you can't fake it. It didn't come from a desire to be famous, but I know that I have much to offer, and I want everyone to see it and for it to make them happy. it's just an urge that can't be explained."
Even when her agent, Roberto Ben Shushan, was asked when he realized there was something special about Kirel, he said: "I started to think so when I saw she was serious. That she came to be a singer, not just a glamour girl."
And Kirel hasn't rested for a moment since making her big break in the Israeli show biz. She began her journey to stardom as a reality TV star on the "Pushers" show in 2015, in which talented teenagers would attempt to achieve fame with the support of their parents.
While for most kids, it was clear that their desire for fame came from their parents, in the case of then-14-year-old Kirel, it was obvious that she was the one pushing for success, with her parents supporting and accompanying her on her journey.
That same year, she also started releasing her own songs, and it didn't take long for her to get a lot of attention - not necessarily because of her music, but more because of her provocative and controversial video clips which attracted much criticism.
Kirel wasn't unfazed by the criticism and may have even thrived on it. She continued on her path, conquered peak after peak, and succeeded in doing what almost no Israeli singer before her could do - put out popular, catchy, and danceable pop music that earned her the admiration of both fans and critics alike.
After winning over the Israeli crowd and paving the way for many young pop singers who followed in her footsteps, she also began expanding into the international market.
She won a VMA award and signed an international record deal, but just as it seemed she had reached the top, 2023 proved that she still has a lot to achieve and became the first Israeli singer to perform at Tel Aviv's Yarkon Park and pull in an audience of 33,000 people.
"I think everything is scary. Winning is scary, not winning is scary, taking risks is scary - but I can't let fear lead me, and I feel that from the first day of my career, I took risks"
The performance was basically a dress rehearsal for the grand stage – the Eurovision Song Contest, in which all of Europe will witness the Israeli pop queen in action.
"Israel stands behind me, it's a crazy feeling"
At the age of 22, you'll appear on the biggest stage in the world.
"It's crazy, I still can't comprehend it. It's something very patriotic, official, and honorable - and I definitely feel that Israel stands behind me and embraces me. It's a crazy feeling."
Do you sometimes think about the contest when you're alone?
"Yes. As it gets closer, I'm telling myself: 'it's happening', moments after the song was out and I began getting feedbacks, it started feeling real."
Does winning scare you?
"I think everything is scary. Winning is scary, not winning is scary, taking risks is scary - but I can't let fear lead me, and I feel that from the first day of my career, I took risks and just went for it."
What are you thinking now that your Eurovision song "Unicorn" is out?
"I waited so long for it to come out and it's so great to see it released. People are talking to me about it on the street all the time and it feels great. I really waited to hear their reactions."
Do you feel like your song will be able to unite people?
"From the feedback that I'm getting, yes. I'm glad that people have hope in me. What's beautiful about music is its ability to unite people."
"I want the Eurovision to be a fun experience"
Kirel explained the process behind the choice of her song for Eurovision. "It's a process. It isn't as simple as just making a song and being done. It's hard work. I have three minutes to present myself to the world, to those who don't know who Noa Kirel is. I take it as a challenge, and it's not always easy."
What will you say when asked about politics in Israel?
"It'll come up, I'm aware that people will ask me questions and I'll be ready to answer, but at the end of the day, I'm Israeli, this is my home and I'm proud to represent Israel."
Throughout your career, you've avoided talking about political issues, even in the ongoing political crisis, how come?
"I just don't get into it. Like everyone else, I hope for better days and I think Eurovision, and my song, will bring some peace to Israel and unite the people of the country."
How do you manage to break free from the pressure?
"I talk to myself all the time, I talk to people about it, I have my team that supports me and my family, there's always a conversation about understanding that you need to let some things go. I want the Eurovision to be a fun experience and won't let the pressure ruin it for me."
"I didn't think I could go through with it"
Your image is that of a very strong independent person, now it feels like you're exposing a more vulnerable side of yourself.
"I'm just exposing the truth, and talking about what's happening to me. People forget that I started at a very young age and I'm growing up in front of the cameras and everyone's eyes, and it's important for me to also talk about the less shiny and less beautiful sides."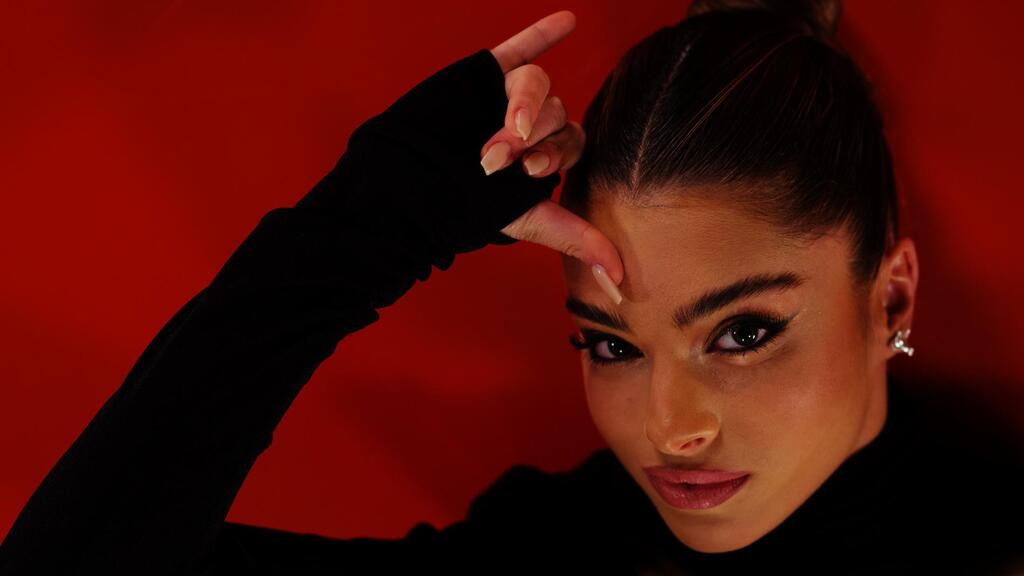 What do these sides include?
"Mostly facing insecurity. In my case, it manifests in very stressful situations, like before the Yarkon Park performance, when I didn't think I could pull it off until I was done with the performance.
Eurovision is the same. I'm not a robot, I don't always think that everything is okay and I'm not always confident. I also feel that I'm not good enough and maybe I won't succeed and maybe if I take the risk, it could ruin my career."
Kirel comes to the Eurovision focused and wants to take first place, but she is also realistic and takes into account that many things can happen.
And yet, even if she doesn't win, her status as a star in Israel wouldn't be affected, as the thousands of her fans keep telling her both online and during personal meetings and shows.
"I'm a people person, I love seeing my fans and accepting their appreciation. I have a lot of patience and I enjoy it. If I didn't enjoy it, I couldn't fake it, I wouldn't really be able to be nice to everyone, if it wasn't true," she explains.
"Of course, there are more challenging days, but in general, I really embrace it because I understand where it comes from. I talk with people after I take pictures with them, and they give me a lot of encouragement."