Israel's President Yitzhak Herzog on Wednesday called for the eradication of soccer fan violence, after Beitar Jerusalem's fans stormed on to the pitch the previous night during the State Cup championship ceremony at Haifa's Sammy Ofer stadium, which ultimately led to its cancellation and the president being evacuated from the field under heavy security.
"We came yesterday for a celebration of football, we wanted to see quality football in one of the highlight events of the season. The football was really excellent, and showed talent and commitment and team play and sportsmanship. Unfortunately, the final events of the game were severe because fans broke onto the field and blew up the celebration. It's a shame that fans committed to their team, full of pride, who waited 14 years for the trophy, didn't get to see this very symbolic and important act."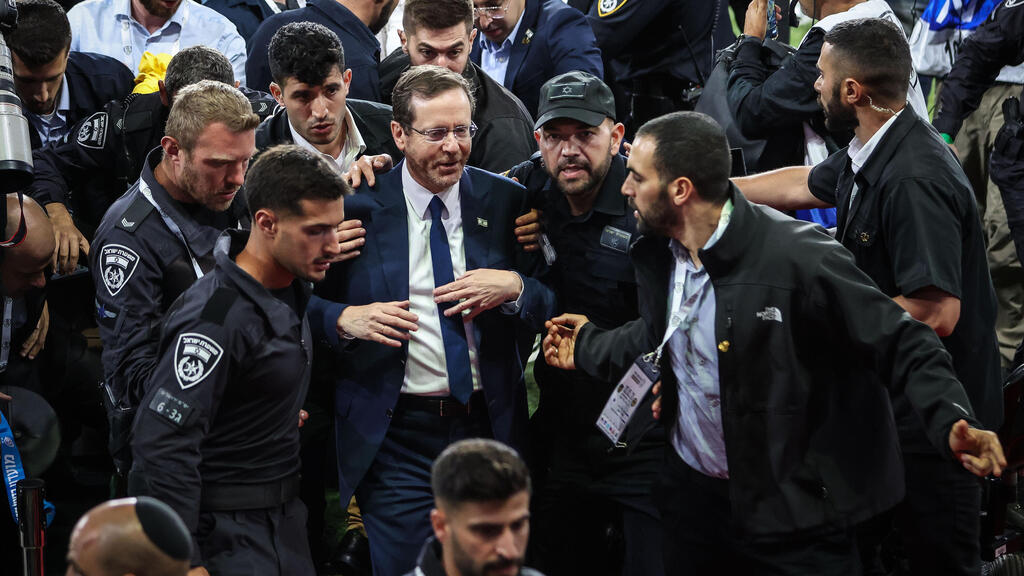 "This violence has been seen in soccer stadiums throughout the season, and it must be treated very seriously," added the president, "I welcome the firm stance of the Minister of Culture and Sports Miki Zohar and the chairman of the Israel Football Association Moshe Zuarets. I trust the decisions of the football association and believe that it is necessary to urgently create a platform for gathering and making firm decisions, together with the association, the Ministry of Culture and Sports, management, police, security and, of course, the relevant legal systems – in order to eradicate this phenomenon as much as possible, it is dangerous and very wrong sportsmanship."
Zohar told Ynet Radio Wednesday morning: "I felt great sadness, a bad feeling which unfortunately is not surprising. I think that since the beginning of my term I have said several times on countless occasions that the phenomenon of violence and sports is increasing, to the point where it will destroy every good part. We received proof at yesterday's final and it is clear that we must all, without exception, solve this phenomenon. I have taken on the responsibility to do so, along with others."
The rules of the Football Associations governing body call for a championship to be stripped in the case of fans running onto the field. But Zohar told Ynet Radio that while he does not think violence should be rewarded, he does not think this measure is necessary.
"I don't think the cup should be stripped from Beitar Jerusalem," Zohar said. "It's neither wise nor true, and it will also harm any sporting value of any sports game. That's why I don't think that denying the trophy can be a good option. I think that Beitar won in a sporting manner and violence should not be rewarded, but such an achievement should not be harmed because of improper and bad behavior of the fans. If we do not fight the phenomenon of violence in sports, there will be nothing positive left in this story, people will not come to the fields."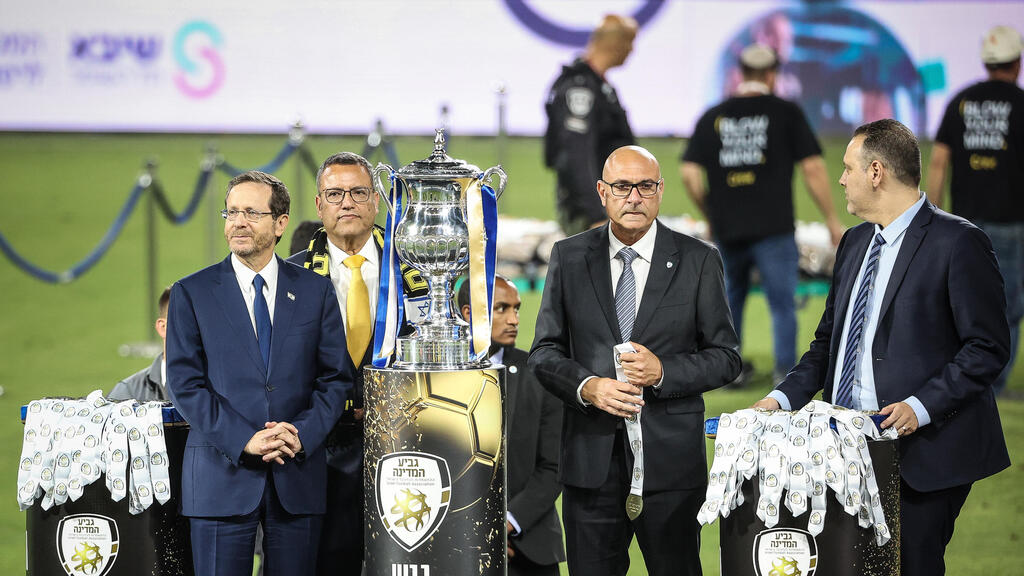 The Football Association will hold a special meeting Wednesday to discuss the incident.
"We witnessed one of the most shameful events in the history of Israeli football, we will take responsibility and not sweep away responsibility," the chairman of the Israel Football Association Moshe Zuarets said Tuesday night: "It's sad that there was no trophy ceremony. I still think that collective punishment should not be resorted to, it does not solve anything, the perception needs to be changed. It's a miracle that no one has been killed, but we are not far from it and every time the bar is lower. Damage was done to the image of Israeli football and the country. A president of a country who evacuated by security guards from crowds that surround him – this is not normal. I am shocked by the incident. We were prepared with hundreds of security guards and ushers, luckily it didn't end in disaster. I think that if they take the trophy from Beitar, it will be a reward for the violent fans. I didn't think we would get to something like this."