An injured whitespotted eagle ray was documented with fishing hooks caught in its body. The video shows the sea bat with two hooks lodged on the sides of its back.
During a maritime surveillance dive in the South Sea Reserve, Omri Omasi, the inspector of the Nature and Parks Authority, identified a whitespotted eagle ray with two hooks embedded in its body. He approached the ray to assess the extent of the damage.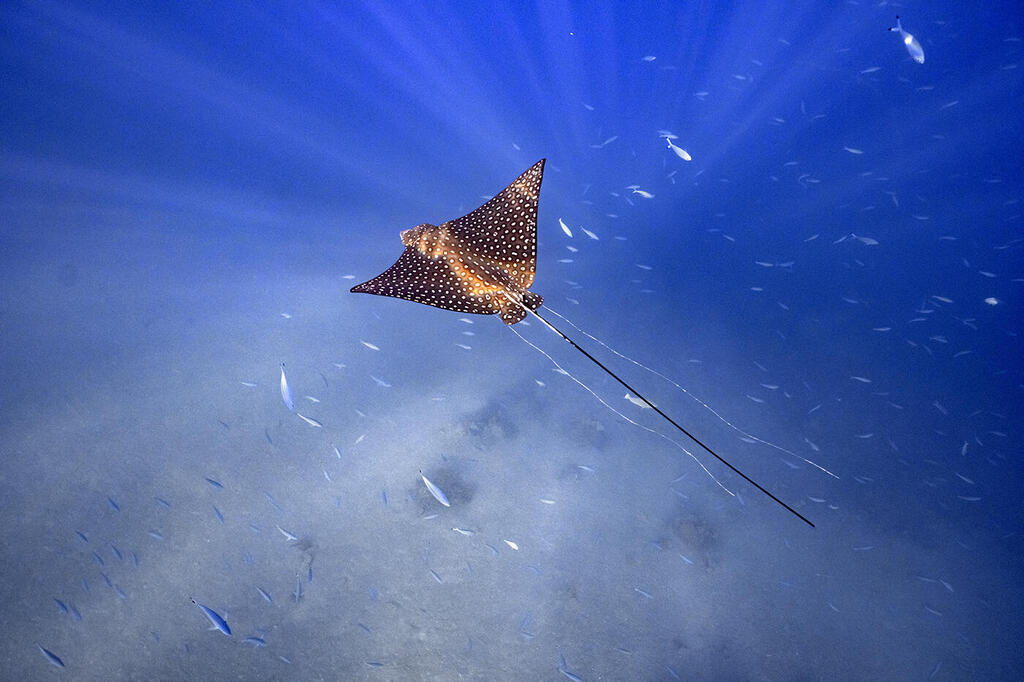 According to the Nature and Parks Authority, numerous fishermen leave fishing hooks behind, leading to entanglements with objects or marine animals. In this specific case, both hooks caused injury to the whitespotted eagle ray, and there is hope that they will naturally rot and fall off.
Omasi emphasized the critical need for the whitespotted eagle ray to keep moving, as being caught and immobilized could result in its death. "In Eilat, we observe them throughout the year, but during autumn, they tend to appear in groups – pairs, threes, and sometimes six or more. This behavior is likely connected to the spawning of juveniles, which occurs on the north coast," he explained.
The ocellated eagle ray or the whitespotted eagle ray, Aetobatus ocellatus, is a species of cartilaginous fish in the eagle ray family Myliobatidae. It is found in the tropical Indo-West Pacific region. In the past it was included in the spotted eagle ray, a species restricted to the Atlantic after the split.
In case you encounter wildlife in distress, please promptly report it to the Nature and Parks Authority hotline at *3639.