Over a thousand doctors, medical experts, and members of medical emergency and rescue organizations gathered outside the offices of the International Committee of the Red Cross (ICRC) in Tel Aviv and demanded that the organization fulfill its duty and inspect the condition of the hostages held by Hamas and other Islamist factions in Gaza.
Similar protests occurred simultaneously in various locations around the world, united under the cry "Act Now." The demonstration in Tel Aviv received support from the Israel Medical Association and the medical intern's organization "Mirsham."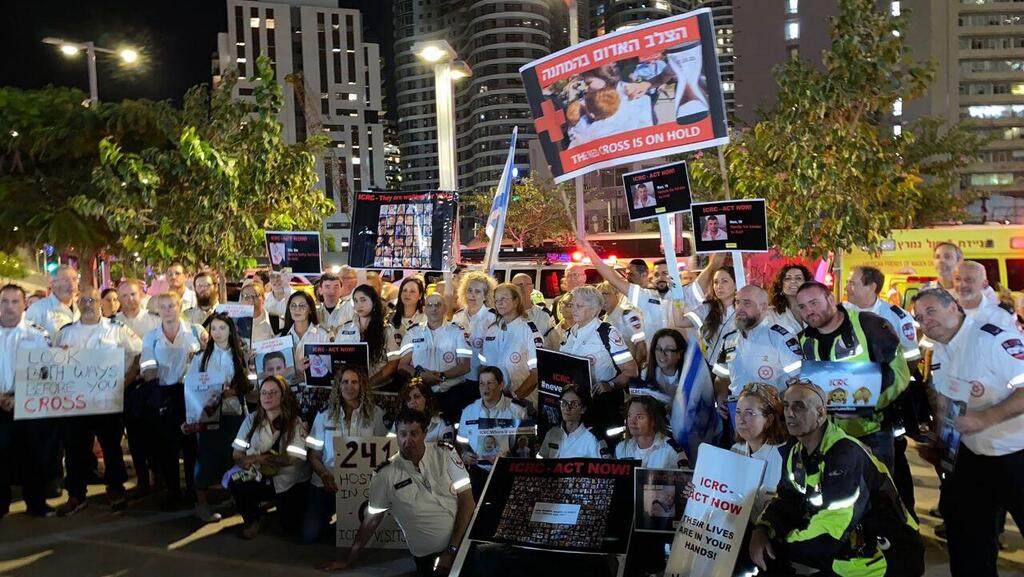 "This should be a non-political demonstration for anyone who believes in human rights and healthcare, in particular," Dr. Avishag Tzur Dotan, a radiology specialist, said. "The Red Cross is uniquely supporting both sides, effectively forsaking their moral obligation to provide medical assistance to everyone and demand the safe return of the hostages. The Red Cross should be an international body applying pressure, but what they are doing now is essentially saying that we are the ones who are not humanitarian in Gaza. We have infants and children who were abducted without committing any wrongdoing. Without the Red Cross, no one else would come."
Healthcare experts from all health funds and hospitals in Israel joined the demonstration in collaboration with the Families of the Hostages organization, under the leadership of the "Lema'anam - Physicians for Holocaust Survivors" association.
"The Red Cross has violated the Hippocratic Oath, Dr. Ray Biton, the head of the medical intern organization "Mirsham," said. "While they fail to stand up against one of the most shocking atrocities and heinous massacres committed by Hamas and refrain from demanding to inspect and ensure the well-being of our hostages, who are there due to a war crime, no one is verifying that they receive basic conditions. Among them is a nine-month-old infant."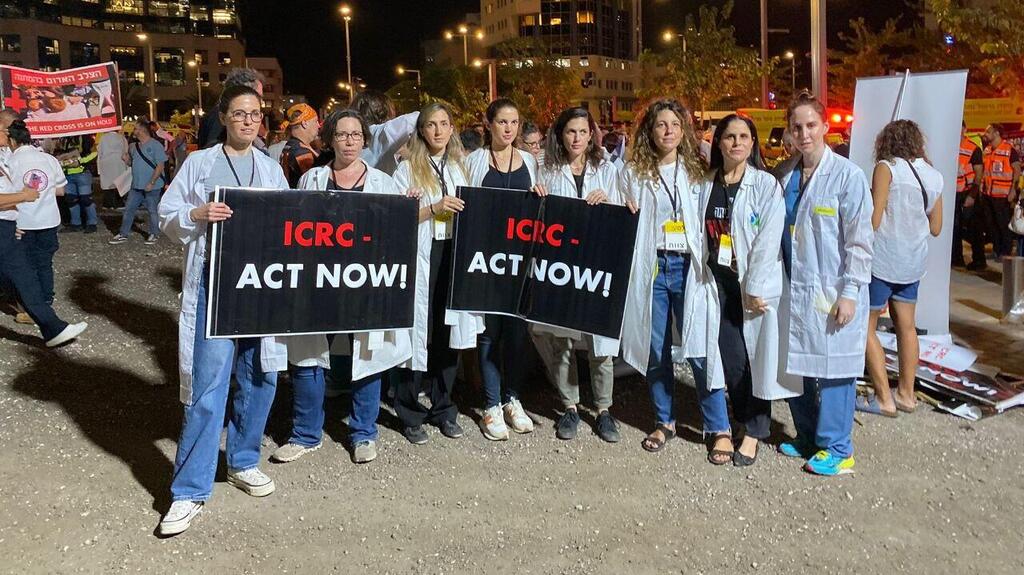 In response, the Red Cross said, "We are doing and will continue to do everything within our power to inspect the hostages, ensure communication between them and their families, and provide them with humanitarian assistance. We understand the frustration of the families and the citizens of Israel. We have met many family members and comprehend that each individual - be it a child, a man, or a woman - is a world unto themselves. "Thus far, we have assisted in the release of four hostages, but this is not enough. Our demands to Hamas are clear: holding the hostages is strictly prohibited under international humanitarian law, and they must be released immediately. We will persist in working for the benefit of all the hostages."