It's a sky-high party on a private jet. Like many expensive and eye-catching things, this concept also comes from Dubai.
The luxury hotel chain FIVE Hotels and Resorts has converted an Airbus A220, a narrow small-bodied aircraft used for short flights, into a private plane that can be rented by anyone who desires it.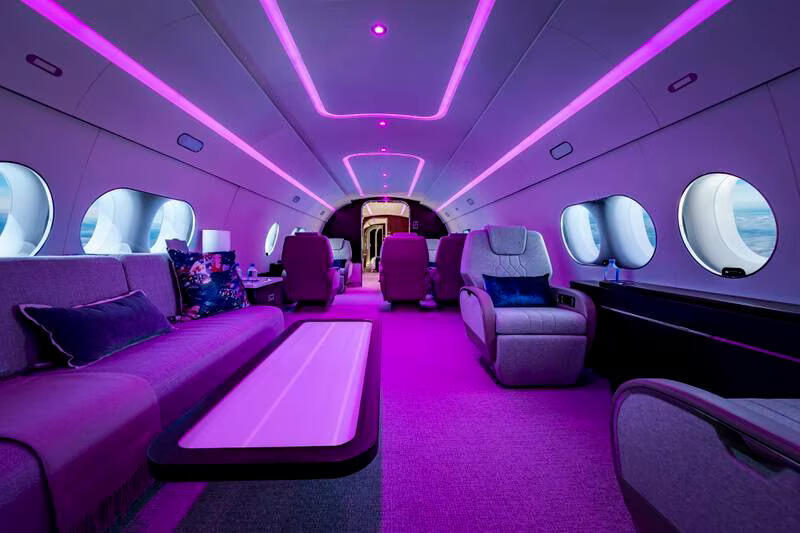 Renters who have the means can enjoy a fully-equipped kitchen for their use throughout the flight, a private shower, a private bedroom, spacious seats, 55-inch TV screens, and even a space for a small party.
Of course, this pleasure is not cheap and costs around $14,000 per flight hour. The plane is actually a new addition to the FIVE brand and can be rented through it.
The current version of the Airbus A220 can accommodate up to 16 passengers. Although it is smaller than popular passenger planes like the Boeing 737 or the Airbus 320, it is significantly larger than most popular private jets. The plane can fly for up to 12 hours and cover a distance of about 9,600 km.
Demand for private flights has been on the rise in recent years, and there is a trend of friends pooling together to rent a plane for a one-time experience. On the other hand, there have also been growing concerns about the environmental damage caused by the use of private planes in recent years.
In March, we visited
Jetsetter's annual private jet exhibition
, held at Ben Gurion Airport for the eighth time. Participating in the exhibition were companies showcasing planes for sale, aircraft management companies, and companies that offer private plane rentals.
Among the prominent manufacturers were American Gulfstream, French Dassault's Falcon, and American giant Textron, which presented the Cessna Citation XLS, one of the most popular private planes in the industry.
Overall, nine planes were presented at the exhibition with prices ranging from around $3 million dollars for smaller and older planes to $60 million or more for more luxurious models, such as Gulfstream's G650, the star of the exhibition. This plane can fly directly from Israel to Australia at a speed of 0.9 Mach and a maximum altitude of 50,000 feet.