Speaking Tuesday from his hospital bed at Rabin Medical Center, Stern described the sequence of events: "I was driving with my wife through Huwara toward Jerusalem, I arrived at the square and the terrorist crossed the road. I stopped to let him cross the road and then I noticed he was concealing one hand suspiciously," he says. "I started reaching for my pistol, the terrorist turned toward us, and we started firing almost simultaneously."
"He fired at us, I fired at him, and I saw through the side window that after I fired about ten rounds he ran away. I drove a few hundred meters and stopped. Then I started applying a tourniquet, and a few minutes later an ambulance arrived and took me to the hospital."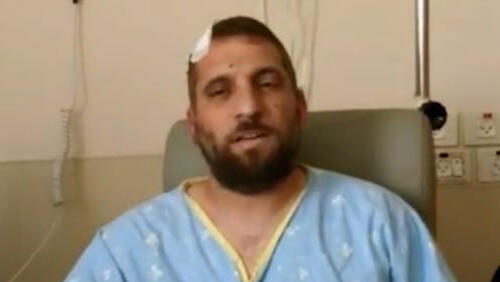 The former U.S. Marine thanked the public for the prayers, support, and love he received from the people of Israel.
Stern urged the government and security forces to take action and ensure the safety of citizens in the West Bank and take necessary measures to prevent the occurrence of future terror attacks."
He also called on the government to bring back military checkpoints in the area.
"It can't go on like this. It was a miracle that we got out of this attack, but what about the next family?"