Emunah Cohen, an 11th-grade student at a girls' seminary (ulpana) in Gedera, was crowned the winner of the International Bible Contest on Wednesday.
The contest, celebrating its 60th edition, took place in Jerusalem on the occasion of Israel's 75th Independence Day in the presence of Prime Minister Benjamin Netanyahu, Education Minister Yoav Kisch, Knesset Speaker Amir Ohana, and Education Ministry Director-General Asaf Zalel.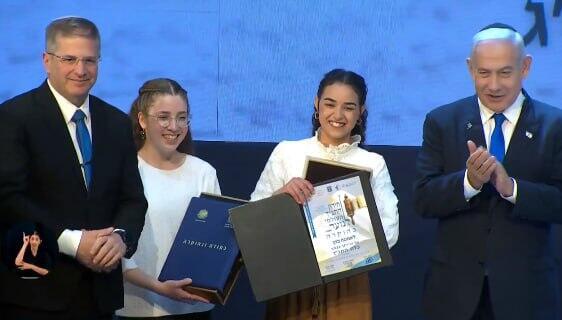 Out of 41 participants in the early stages of the competition representing 20 countries from around the world, 16 contestants made it to the finals.
Emunah Cohen managed to top the rest of the competition, becoming the first female contestant to pick the crown in three years after Ruth Cohen, who went to the same Gedera seminary as this year's winner, did so in 2020.
Ten girls and six boys qualified for the finals. Israel and the United States each sent four representatives to the final round. England and Mexico each sent two representatives, while South Africa, Australia, Argentina, and Panama each had one representative.
The International Bible Contest has become a tradition since Israel's 10th-anniversary celebrations and includes four stages: school level, district level, national level, and global level.
At the opening of the event, Knesset Speaker Ohana said, "Only family members and close friends can attest to how many long days and sleepless nights these young people dedicated to getting here.
Thousands of young people from around the world leave aside all their other pursuits for this important competition each year to study and learn from the eternal book. The return of the Jewish people to their land is unimaginable without the Bible that we study and read from."