The iconic Alfa Romeo Tipo 33 Stradale, a limited production masterpiece, emerged from the renowned Alfa Romeo factory between 1967 and 1969 - Just 18 of them were built and they became a collectors' item. This exquisite creation showcased the essence of the Alfa Romeo Tipo 33 sports prototype race car. While it may not have achieved the pinnacle of success for Alfa Romeo, the subsequent three generations of the Tipo 33 solidified its status as an enduring symbol of the brand's legacy.
Draped in an alluringly curvaceous exterior, the original Tipo 33 lends its charms to its road-worthy successor. Despite its diminutive proportions, this automotive marvel exudes an air of potency, with a sleek front end cascading gracefully over its front wheels. Adding to the theatrics, the wrap-around windshield accentuates the aura, but the pièce de résistance lies in the twin butterfly doors adorned with glass upper halves.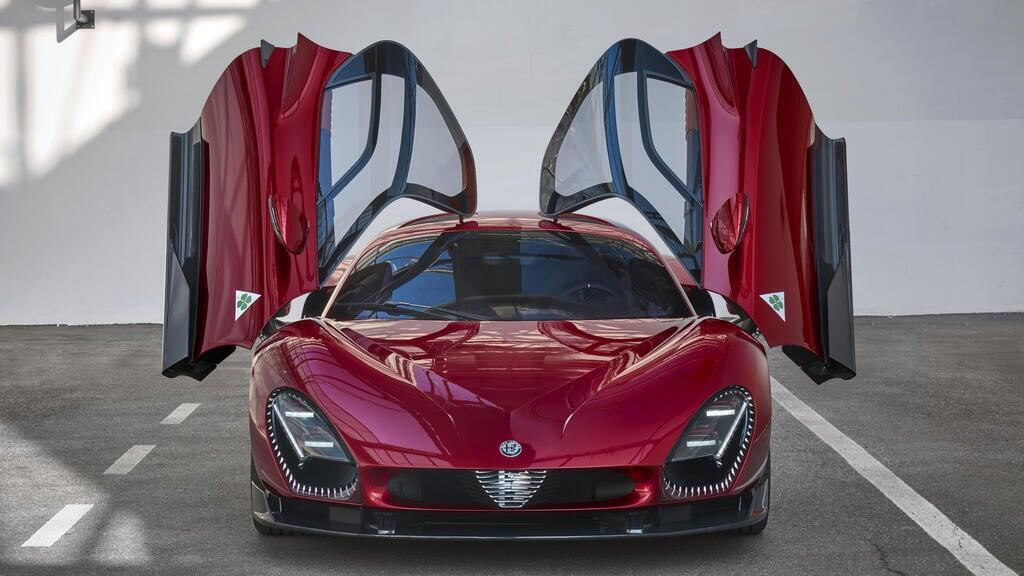 The body fluidly continues its journey toward the rear, housing air intakes that dutifully cool the rear-mounted 2.0-liter V8 engine. With a robust 230bhp, it may not possess the most formidable V8 power ever witnessed in an Alfa Romeo, yet its lithe figure of merely 700kg grants it remarkable speed and agility for its era. Performance-wise, we have a featherweight sports car capable of propelling from 0 to 62mph in under 6 seconds, while effortlessly reaching a top speed of 161mph.
The new Alfa Romeo 33 Stradale embodies an exquisite reinterpretation of the original 1967 masterpiece, boasting a breathtaking exterior crafted by the renowned coachbuilders, Carrozeria Touring Superleggera. This modern iteration impeccably captures the allure of its predecessor, blending contemporary aesthetics with sensuous curves that pay homage to its timeless design.
Every iconic detail has been meticulously recreated, from the sleek and low-slung front profile to the mesmerizing butterfly doors adorned with glass tops. The strategically placed air intakes and exhausts on the car's "hips," along with the elegantly rounded taillights, further enhance its captivating presence. Notably, both the front and rear sections of this automotive marvel open in a harmonious clamshell fashion, adding an element of theatrical grandeur to its already striking persona.
Prepare to enter a captivating interior as you step into this remarkable automotive marvel. The luxurious two-tone leather-clad sports seats offer a balance of comfort and style, while the meticulously machined aluminum control panels exude refined elegance. Although the initial impression may not mirror the original car's interior, a closer look reveals subtle nods to its iconic heritage.
For instance, the instrument cluster features retro dials that pay tribute to its predecessor's distinct shape. The center console, finished with cross-hatch brushed aluminum, proudly houses the controls for the automated eight-speed dual-clutch transmission, seamlessly blending modern technology with timeless sophistication. Even the seemingly ordinary elements, like the toggle switches for the windows and doors, have been transformed into exquisite works of art, enhancing the overall allure of this exceptional masterpiece.
Underneath its hood lies the mighty force of the 3.0-liter Nettuno twin-turbo V6, generating an impressive 650 horsepower. This formidable engine represents a groundbreaking advancement in powerplant technology, boasting cutting-edge engineering that not only enhances its potency but also ensures cleaner emissions and heightened responsiveness when compared to conventional systems.
Surprisingly, Alfa Romeo bestows upon every purchaser the freedom to opt for either the V6 petrol engine, brimming with the intoxicating allure of scents, sounds and vibrations, or a fully-electric drivetrain that unleashes a staggering 750 horsepower. This unprecedented choice presents a captivating dilemma: the timeless charm of a petrol engine or an awe-inspiring upgrade of approximately 130bhp. In terms of performance, Alfa Romeo confidently proclaims that both variants possess the capability to achieve speeds of 100kph in under 3 seconds, a remarkable feat that cuts the time in half compared to the 1967 model.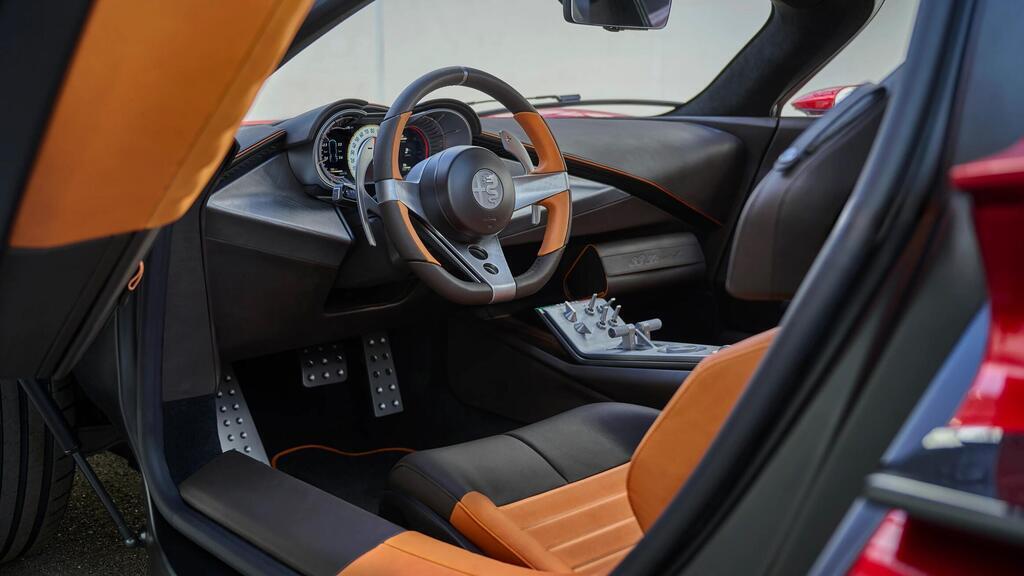 Should you harbor a desire to own one of these irresistibly alluring machines, there are a couple of minor hurdles to overcome. First, there is the matter of the formidable price tag, standing at a staggering $2.1 million. Furthermore, even if fortune smiles upon you and the funds are readily available, it is disheartening to learn that all 33 of these magnificent automobiles have already found eager buyers, leaving none for the taking.
Nevertheless, amid this disappointment, it is only fitting to commend Alfa Romeo for crafting this remarkable reinterpretation of what can only be described as the pinnacle of their sports car lineage. Let us fervently hope that these exquisite creations are not relegated to the confines of garages, but rather cherished and enjoyed on the open road, where they can truly come alive.