We really love
sweet challah
bread. Sometimes we find that to make it even more irresistible, it needs a delicate aroma that enhances its sweetness. So without further ado, here's a recipe for two of the most festive challah breads you won't be able to stop eating.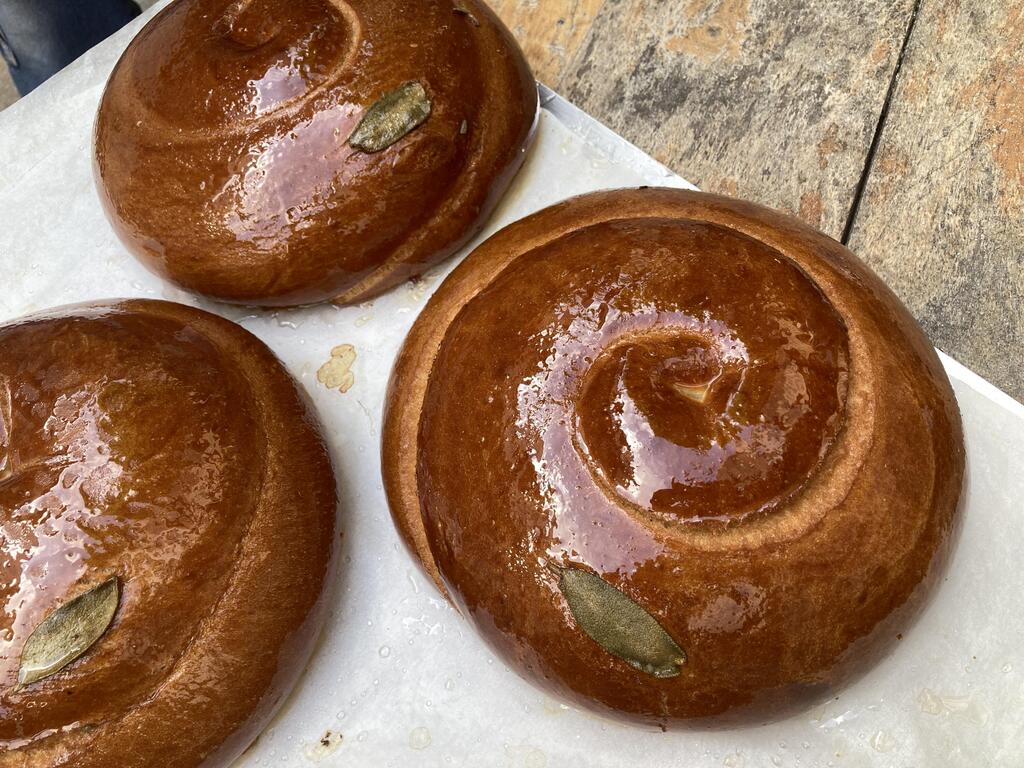 • A handful of sage leaves
To make the syrup:

In a pot, bring the sugar, water, sage leaves, and half a lemon to a boil. Reduce the heat and simmer for 20 minutes to slightly reduce the liquid. Transfer to a container and refrigerate for at least an hour.

To make the dough:

In a small mixing bowl, combine all the dry ingredients without any particular order. Add water and flour and knead on medium speed using a dough hook for 15 minutes. Cover with plastic wrap and let rest for 30 minutes.

Transfer the dough ball to a lightly floured work surface and divide it into two. Cover with a towel and let rest for 10 minutes.

Roll each piece into a 60-cm (about 24-inch) long snake shape. Coil each snake around itself to form a spiral and place them in a baking tray lined with parchment paper. Cover with a towel.

After two hours, check if the challah has doubled in size. If so, preheat the oven to 180 degrees Celsius (about 356 degrees Fahrenheit) on turbo mode. Attach sage leaf garnishes using a bit of honey and bake for about 25 minutes. If your oven doesn't distribute heat evenly, it's recommended to rotate the baking tray midway through the baking process.

When ready, generously brush with the cooled syrup.
Recipe courtesy of pastry chefs Michal Bouton and Anna Shapiro of Amita Bakery.