There is apparently something about being in a relationship with
Kanye West
that makes his partners' taste in clothes particularly ... how can we put it ... intriguing. Or maybe it's the opposite, and West chooses his partners according to their eccentric fashion sense.
Nevertheless, it seems that the women in West's life definitely love to attract attention when it comes to their attire: his former wife Kim Kardashian consistently oscillated between being the queen of fashion to the queen of trashy; his former partner Julia Fox continues to hit headlines thanks to her bizarre fashion choices; and now his current wife Bianca Censori, 28, seems to have also joined the club, when she decided to wear a particularly strange garment that looks, above all, uncomfortable.
Censori sported her fashion statement on Sunday when the couple went to church, and she was dressed in an extremely tight nylon dress, with a transparent fabric that completely covered her head, as well as another piece of thicker fabric that was wrapped around her shoulders, neck and part of her face. This look seems to have been inspired by "The Handmaid's Tale" series, or maybe directly from real-life patriarchal cultures.
To no one's surprise, at some point, Censori had some trouble managing her attire while walking, and her husband came to her rescue, adjusting it a bit with a big smile of satisfaction on his face.
West also made sure his outfit did not go unnoticed, and matched Censori's vibes. While he decided to go for a more comfortable all-black outfit to match her color scheme, he added some spice with shoulder pads and a unique shoe-less look. Furthermore, his shirt read "POLIZEI," which means police in German.
Psalm, West and Kardashian's 4-year-old son, also tagged along.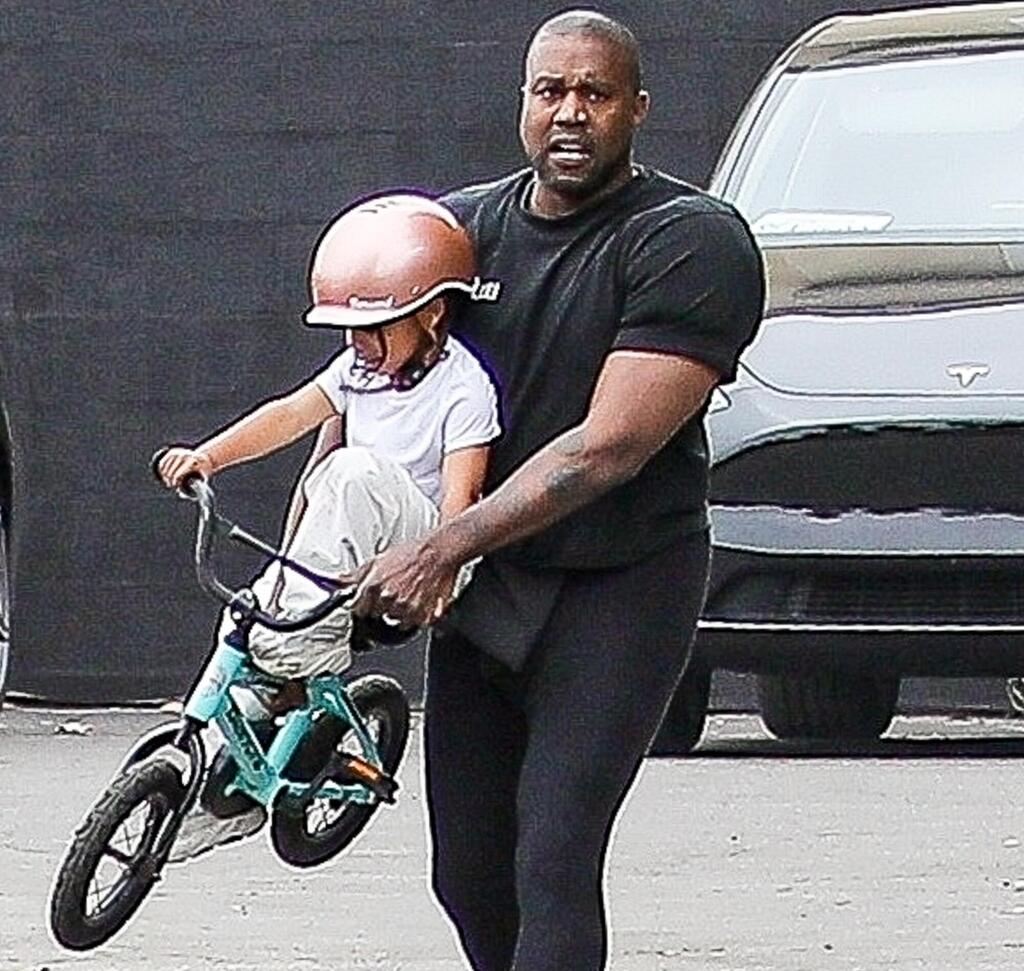 This is not the first time that Censori has worn a head covering - lately, she tends to go out with her head covered in one way or another, usually with only her eyes showing.
West and Censori supposedly got married about six months ago, but according to reports, they never obtained an official marriage license. However, a few weeks ago, Censori insisted in a TikTok video that they are indeed officially married.
West is celebrating his 46th birthday on Thursday, but it may not be a particularly happy one. His
antisemitic tirades
have turned him from one of the most successful and profitable stars in Hollywood to a marginalized lunatic.
Major
brands have stopped working with him
, and recently, two lawsuits have been filed against him - one by several teachers who were fired from a school he owns, and another by a photographer who is suing him for assault and property damage after he snatched her cellphone in January and threw it to the ground, suspecting that she had filmed him.
In addition, the couple was forced to leave his West Malibu home, a $57 million estate, and move into a $20,000-per-month rental penthouse, after the roof started collapsing. Good luck to them?