Saba Kidane | Seriously injured in a Tel Aviv terror attack
"I left work at 1:30 p.m. and headed to the bus stop to go home. I saw the bus approaching, and someone offered me a seat because she noticed I was pregnant. I told her that she also looked tired and everything was fine, and then he ran me over," 31-year-old Saba Kidane says, recalling the events of a
combined ramming and stabbing terror attack
in Tel Aviv last July.
Kidane, a mother of a ten-year-old child, was in her sixth month of pregnancy at the time. She was seriously injured in the attack and suffered a miscarriage. Today, she is hospitalized in the rehabilitation ward at the Sourasky Medical Center in Tel Aviv.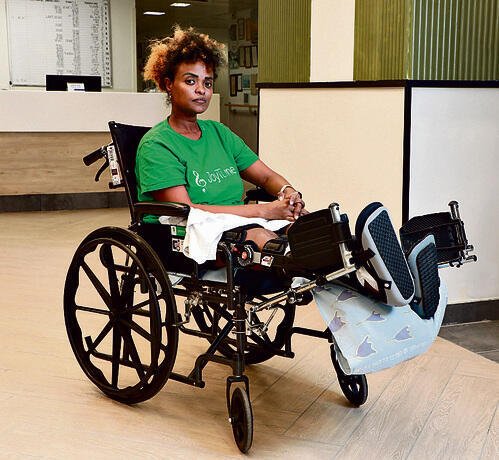 Aside from dealing with her severe injuries, Kidane and her partner, Dassi, are also facing bureaucratic challenges. "I've been in Israel for 16 years," she says. "My partner is an Israeli citizen, and I've always felt like a part of Israeli society, but after the attack, I realized I wasn't. I thought I would stay here forever, and now they're not willing to recognize me as a terror victim; they call it a work accident."
In one of the rooms adjacent to Kidane's, another woman who was also injured in the attack is hospitalized. Her spouse is assisting her and receives support from the National Insurance fund because they are recognized as victims of terror. Dassi, Kidane's spouse, isn't entitled to the same benefits.
"I haven't been working for almost two months and I'm not getting help from the government," he said. "We're trying to find a ground-floor apartment that is accessible so Saba can come home on weekends, but we can't find something we can afford, because we aren't receiving any help. I made Aliyah to Israel from Ethiopia when I was 20, I'm Jewish, I served in the IDF, I pay taxes, and I'm not getting what I'm entitled to."
Saba is still undergoing a lengthy mental, and physical rehabilitation process. Both of her legs are broken, and she moves around in a wheelchair. "I miss walking, I love moving a lot, I don't like being sedentary. I miss cooking for my son and partner, and feeling independent."
Saba was under an induced coma for three days following the attack. "I woke up and thought it was the day of the attack," she said. "It took me a few days to realize that I lost my baby. I haven't told my family in Sudan yet, things are difficult there, and I don't want them to worry about me, I'm very concerned about them."
Morel Nicker | Seriously injured in a terror attack in Eli
"A few weeks ago, when I was still in a wheelchair, I saw my daughter lying on the couch, she nearly fell over. Out of instinct, I tried to get up and reach her, but I couldn't. I yelled, 'She's falling,' but no one heard, and then she fell. I couldn't help her," says 28-year-old Morel Nicker, who was seriously injured in a
terror attack at the gas station at Eli
in June.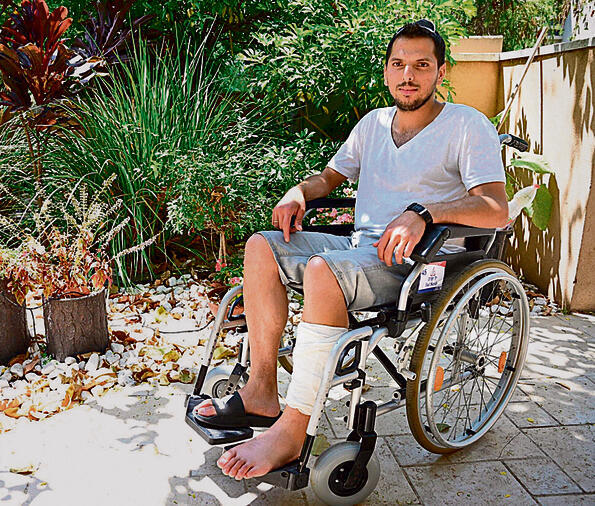 Nicker, who is a married father of two, was injured in his leg and palm and is currently undergoing rehabilitation. He transitioned from a wheelchair to crutches and hopes that in about five months, he'll be able to return to full activity.
"I'm starting to regain most of my movements, but I still can't rotate my hand completely, and my leg also requires support. It's hard for me not being able to pick up my children, but I hope it'll improve soon," he said.
According to Nicker, his injuries from the attacks aren't just physical: "I'm sure that all the paramedics and the people who were at the restaurant during the attack and saw the gruesome sights, were more affected than me. I've changed since the attack. When I went out recently, I heard gunfire, probably from one of the neighboring villages, and immediately tensed up," he says. "My body reacted differently. This hasn't happened to me before.
We have to remember the wounded. I saw the reports saying that 34 people were killed in terror attacks this year. That's a crazy number, but I haven't seen any account of people injured in these attacks. Terrorists picking up an automatic rifle and heading out to open fire on the main West Bank road must not be allowed to happen. There's no deterrence whatsoever. I don't know what needs to be done; there are those who understand this better than I do," he says.
Elrai Kapah | Seriously injured in terror attack near the Tekoa junction
"I had another operation, and I'm currently healing at home. I'm slowly recovering, thank God. It takes time to process, but it's a dual process – there's the physical aspect and the emotional aspect that needs to be dealt with," Says 37-year-old Elrai Kapah, who was seriously injured in July in a
shooting attack at the Tekoa junction
.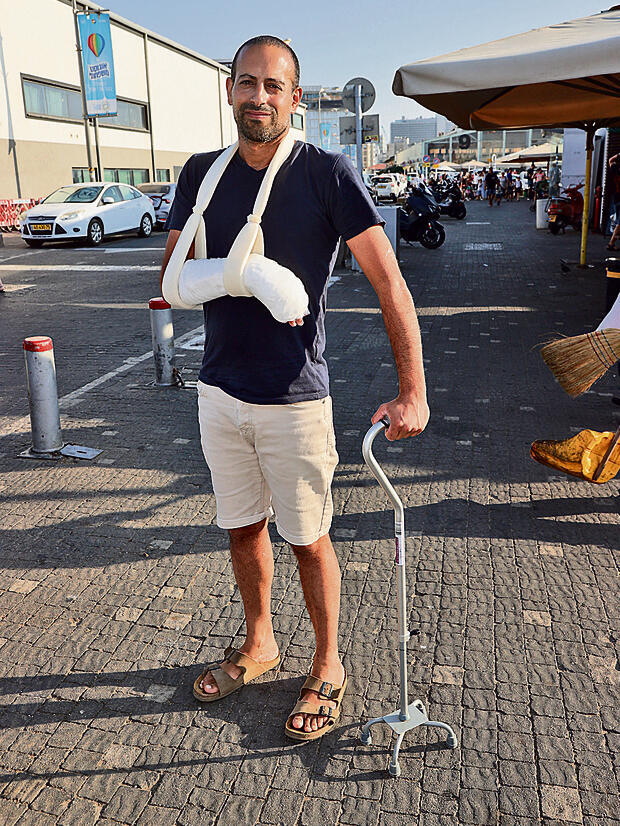 Kapah had been driving his daughters Rachel and Abigail to a summer camp when they were attacked. The girls suffered minor injuries. "It's hard to say which aspect is more difficult," Kapah says. "The body has its own pains. It can prove a challenge in daily activities, like a sudden pain when I lift up my son. But the emotional aspect is always present. Memories, thoughts, images, and difficult emotions keep bubbling up," he says.
"I have Thoughts about my daughters who were with me in the car, about how they experienced the attack and how I can help them. The two coexist, and both need to be addressed. I hope to recover in both aspects. The emotional part will likely take more time."
Kapah describes what he remembers from the attack. "In the first seconds, I reached out to my daughters and told them everything would be okay. It was important for me to do that right from the start although I was seriously injured. This was a natural response of a father."
According to Kapah, his wife is very attentive to him as they both care for their daughters. "It's a process. They need to be held close. To see that they're okay. It also helps me, to care for them. The fact that we can sit in the living room and talk about the attack is in itself a form of healing, It is a process that we're going through together, despite its difficulty," he says. "It can be accompanied by crying and anxiety, but we go through and process it together. My wife took the girls back to the junction where we were attacked. There were soldiers who accompanied us and it was very powerful. We went through the attack together, and we'll recover together.
Shareef ad-Din Hamaishe | Critically injured from an explosive device near Megiddo junction
"I feel like my survival is a miracle. I almost died in that explosion. Now I spend my days at home. I only go out for medical treatments. I can't see at all, I've lost my eyesight completely. I'm very bored. Most of the time, I'm alone, and I can't adjust to that. Before the attack, I studied and worked, I used to go out with friends, I wanted to live. Now I don't know what I'll do," Shareef ad-Din Hamaishe, 21, from Kafr Salem, near the Megiddo junction, says.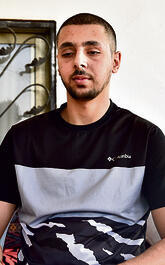 In March, Hamaishe was seriously injured by a large explosive charge that was
planted by a terrorist
who breached the border with Lebanon. Hamaishe was on his way back home from work when the charge exploded and injured him severely. Doctors at Rambam Health Care Campus in Haifa fought for his life. He was hospitalized for a month and lost both his sight and hearing as a result of his injuries.
"I need to find a way to pass the time, what should I do?" Hamaishe said. "Before the attack, I was always moving, working, and studying, never stopping for a moment. I used to drive all over, I planned to advance my life, and it's hard for me not being able to drive at all and depending on someone to assist me these days."
"When I was in the hospital, they told me that I would go to an institute where I'd be taught how to read and write, but they still haven't reached out to me. My dream of becoming a construction engineer is shattered. You need eyes for that," he says.
"I sleep, get up, and sit by the phone. When my father comes home from work, I sit beside him and friends come and keep me company. Since the attack, I've only been out twice, to a café in Hadera with my brother, and it was very difficult for me. I can't see, I can't function."
"They haven't taught me how a blind person can read yet, so I can't read. Every time I hear about a terror attack, I remember the one I've been through, and that's why I don't like listening to the news."
First published: 16:23, 08.23.23