As rockets pounded Israel's south and center, Hamas leader Ismail Haniyeh took to social media to share a video call to action, urging Muslims of the world to join the "jihad" and fight for Palestine for a "Day of Rage" on October 13, with more than just words or money.
To any logical person, this was a clear call to violence against Jewish people and pro-Israel voices globally. But to self-declared pro-Palestinian voices, this was an excuse as good as any to wage a war on Jewish communities and campuses.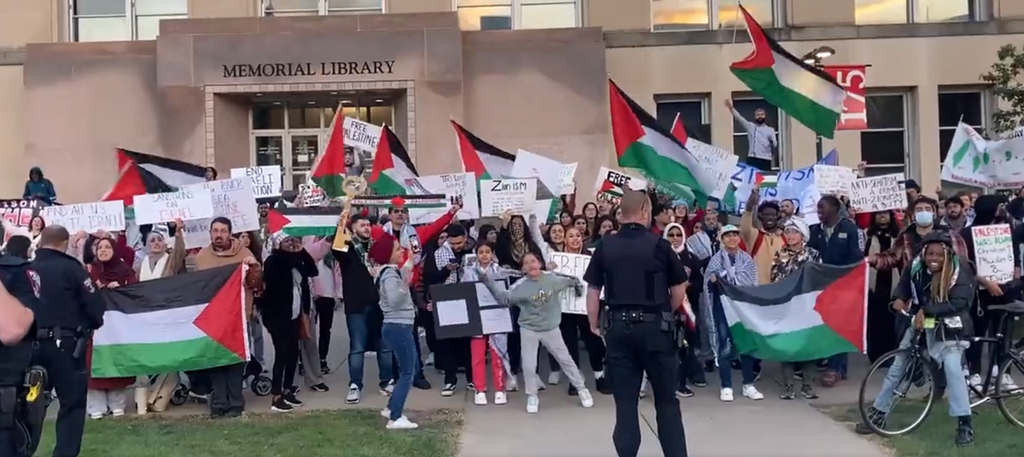 Throughout the day Friday, Jewish communities and students, as well as Jewish organizations and institutions were targeted in antisemitic attacks, threats, insults, harassment, and even assaults.
In France, while the government tried to pre-empt the anti-Israel scenes by banning pro-Palestinian demonstrations for their propensity to violence, Palestinian supporters nonetheless took the streets after a day of small-scale attacks throughout Paris for violent riots in support of Hamas.
Further north, a professor was stabbed to death by a Chechen Islamist who was screaming "Allah Akbar." Sandra Hegadeus, a Jewish community activist, told Ynetnews "For the first time in my life I feel real fear… I am feeling like I'm in 1940, like my grandparents in Hungary, as if things are closing up on us and we have to kind of make sure nobody finds out we're Jewish."
France has also seen repeated bomb threats in the last 48 hours, she explains. "We are on alert for terror attacks...we have a lot of radical potential terrorists inside France. The Louvre was evacuated over a bomb threat, Versailles Palace was evacuated, and also the Gare Du Nord was evacuated over bomb threats.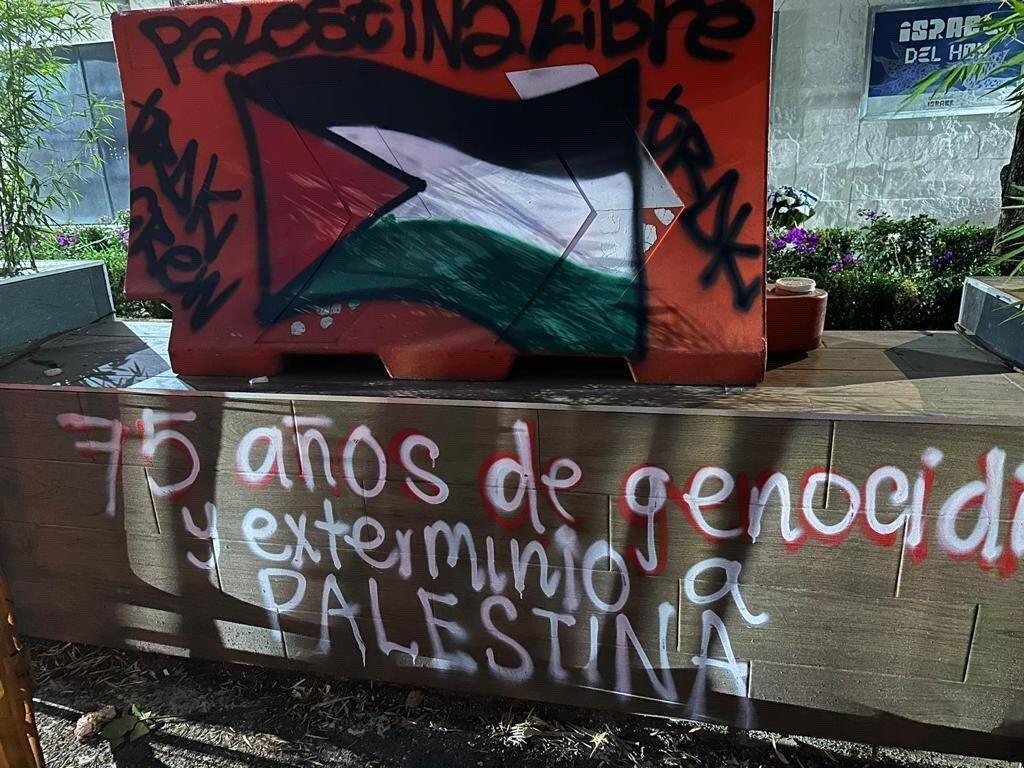 In the Netherlands, the government prepared for a day of rage by
closing Jewish schools
. In Germany, Jews woke up to find that their homes had been vandalized with a Star of David. Anna Staroselski, the spokesperson for one of the leading German-Jewish organizations WerteInitiative, told Ynetnews that "Jewish Schools and Kindergartens were empty, many Jews didn't leave their homes, some took their mezuzot off their doorposts. Jews in Germany are in shock and aren't feeling safe. Now we understand how the Holocaust could've happened."
In Beijing, an Israeli diplomat was stabbed in broad daylight by a member of the Muslim community. In Mexico City, "death to Zionists" was spray painted outside the Israeli embassy and a memorial to the victims of the Hamas attacks
was vandalized
. In
Portugal
, a synagogue was defaced with "Free Palestine End Israeli Apartheid." In
Toronto
, a bus stop in a Jewish neighborhood was vandalized with "Israel terror state."
In London, footage went viral of Muslim women walking around Camden and tearing down flyers of missing and kidnapped Israelis, at protests participants wore shirts with photos of paragliders on them in an ode to Hamas terrorists who paraglided into the
Supernova music festival and slaughtered over 250 people
.
In Brighton, the Palestinian Solidarity Committee rally featured speakers who called the Hamas attacks on Israel "beautiful" and something "we need to celebrate." Calls for violence against Jews led to massively increased security for Jewish institutions throughout the UK.
In the United States, however, the most alarming scenes were on college campuses. At UNC-Chapel Hill, anti-Israel students were filmed
screaming
"We are Hamas" at Jewish students. At another school,
La Positas College
, a Muslim student was filmed chasing a Jewish student and screaming "you are f***ing Nazis."
Photos from the University of Michigan showed a professor tearing down flyers for missing Israelis and 508 faculty members condemning the university president's support for Israel. Florida Atlantic University's protests saw students screaming "Free Palestine" at Jewish students.
Upsetting scenes were also shared across
social media
from the
University of Washington
and also at
UCLA
, where massive anti-Israel protests were held in which activists chanted for an intifada as the "only solution". Viral videos showed anti-Israel activists cursing and insulting Jewish students with antisemitic and homophobic slurs, and another video was shared of a Jewish student seen sobbing to a school administrator, tearfully asking "They want our people dead! Why are you allowing this?!"
Similar scenes took place at the University of Illinois Urbana Champaign, where students openly called for violence against Jews and praised the terrorist actions of Hamas. At the University of Wisconsin Madison, Palestinian protesters chanted "
glory to the martyrs
" referring to the Hamas terrorists who butchered, beheaded, and raped Israeli civilians including children, in southern Israel.
George Mason University
had similar scenes with students chanting, "they've got tanks we've got hang gliders, glory to the resistance fighters."
Drexel University in Pennsylvania saw a Jewish student dorm room set on fire, though no one was injured, and Columbia University, known for fierce anti-Israel activity, shuttered the university in response to the threats.
At UC Berkeley, a video was
released
where Jewish students were shown confronting administrators for doing nothing to protect Jewish students on campus who feel unsafe, and at Brooklyn College, Jewish students who held a memorial vigil for victims of terrorism were targeted by "free Palestine" chants, and multiple campuses released flyers to promote their events explicitly praising and glorifying the acts of violence against civilians including depicting Hamas parasailers flying into a crowd of innocent people.
While campuses were the hotbed of antisemitism on Friday, the U.S. has also seen extremist communities rallies of support for Hamas terrorism – sometimes explicitly. In Philadelphia, activist Michael C. Wilson was
filmed
at a rally stating, "When I heard the news, I smiled…I salute Hamas for a job well done!"
In the aftermath of the "Day of Rage," Liora Rez, executive director of the antisemitism watchdog group Stop Antisemitism, said, "There has never been a time more frightening to be a Jew and a university college campus in America right now."