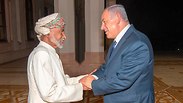 PM with Oman Sultan
Photo: AP
Prime Minister Benjamin Netanyahu is proud of the fact that he raised Israel's prestige on the international stage. It is difficult to separate his actions as prime minister from those of his position as foreign minister as well. After four years in the position, Netanyahu has accumulated quite a few achievements, as well as some failures, as Israel's top diplomat.

Some of his accomplishments are controversial, such as the tightening of relations with right wing populist world leaders including Hungary's Viktor Orban, the Philippines' Rodrigo Duterte and Brazil's Jair Bolsonaro. Netanyahu has managed to strengthen ties with many world leaders, most from the less-than-liberal side of the political spectrum.




Some of the right-wing leaders Netanyahu is close to have been known to edge towards anti-Semitism, which might explain his conciliatory stance towards the Polish Holocaust Law and his refusal to condemn the Hungarian government's campaign against Jewish billionaire, Holocaust survivor and activist George Soros.

Netanyahu has strengthened relations, behind the scenes, with Saudi Arabia and the Sunni Gulf states, including issuing public support for Saudi Crown Prince Mohammad bin Salman over the murder of Jamal Khashoggi. So far, relations have peaked with the prime minister's official and public visit to Oman.

Netanyahu has also strengthened relations with Egyptian President Abdel Fattah al-Sisi, especially in matters relating to security; the IDF has reportedly launched strikes against ISIS targets in the Sinai in coordination with Egypt.

The most prominent example is Netanyahu's good relationship with US President Donald Trump, highlighted by president's decision to move the US Embassy from Tel Aviv to Jerusalem. Despite the achievement, few countries have followed in Trump's footsteps, namely Guatemala and Paraguay. Only Paraguay reversed the decision three months later, returning its mission to Tel Aviv, and prompting Israel to shutter its embassy in Paraguay.

As for the United States, only Ambassador David Friedman, his secretary and assistant have moved to Jerusalem. All the other embassy staff remain in Tel Aviv, although the US has started renovating the building, seemingly with the intention of eventually moving its staff to the capital.

Relations between Israel and the US in the Trump era are better than they have been for a long time. The US backs Israel at the traditionally hostile United Nations, and pulled out of the Iran nuclear deal and renewed sanctions against the regime to Israel's delight. On the other hand, Israel was less than pleased when Trump announced the withdrawal of US troops from Syria, and even more displeased when he said that Iran could do whatever it wants in the country.

Netanyahu has also mamanged to maintain good relations with Russian President Vladimir Putin, making possible the military coordination that allows Israel to avoid conflict with Russian forces when operating in Syria to prevent Iranian entrenchment.

The ties have even survived the crisis sparked by the accidental downing by Syrian anti-aircraft missiles of a Russian plane during an Israeli strike. Russia does not view favorably Israel's actions in Syria, yet they continue the intermilitary coordination. After conducting a number of meetings in the past, Netanyahu continues to maintain contact with Putin by telephone, although he may have to sweat a little to obtain another meeting with the Russian president.

Israel has improved relations with India, under its Hindu nationalist president Narendra Modi, including a series of defense sales. For the first time, India has abstained from UN votes hostile to Israel.

Netanyahu conducted an historic state visit to Brazil recently and established ties with its new right wing President Jair Bolsonaro, ushering in a new era in relations between the two countries after a low point marked by Brazil's refusal to accept the appointment of Dani Dayan as ambassador on the grounds that he is a resident of a West Bank settlement.

The relationship with Jordan has known ups and downs with the expulsion of the Israeli ambassador following an incident during which an Israeli security guard shot and killed two Jordanians. Jordan has been annoyed with Israel's lack of progress on the delay in constructing the Red Sea-Dead Sea canal project and recently announced that it will not renew the lease on several agricultural parcels of land near Naharayim in the eastern Negev, effectively reneging on a clause in the 1994 peace treaty between the two countries.

Israel can also chalk up some partial diplomatic achievements under Netanyahu, with Russia's declaration of recognition of West Jerusalem as Israel's capital. Australia also issued a similar declaration, but to Jerusalem's dismay did not follow up with an embassy move. Brazil's Bolsonaro also stated his intention to move his country's embassy but it is not expected to happen in the near future owing to pressure from Arab states.

At the start of 2019, Israel and the US' withdrawal from UNESCO took effect. The departure is not viewed as a diplomatic achievement as the UN organization has made some changes and is headed by a French Jewish diplomat.

There was a breakthrough in relations between Israel and the central African nation of Chad. Its President Idriss Déby visited Israel recently and Netanyahu is expected to visit Chad soon, although the country has yet to fully reinstate diplomatic relations and has failed in its effort to convince Sudan to allow Israeli flights to overfly the country, shortening flight time between the Middle East and Latin America.

The relationship with Turkey has also known ups and downs, although perhaps more of the latter. Following the Mavi Marmara incident of 2010, Israel agreed to pay $20 million in compensation for the killing of nine Turkish citizens. But instead of reconciliation, Netanyahu received further inciting rhetoric from Turkish President Recep Tayyip Erdogan.

After reinstating ambassadors, Turkey again expelled the Israeli envoy, and recalled its own, due violent clashes along the Gaza border between Israeli troops and Palestinians. The two leaders continued to trade verbal barbs on Twitter, as is the new political trend.

Netanyahu conducted three historic visits to African nations and tightened relations with the leaders of Nigeria, Kenya, Chad and others. However, the prime minister has not taken any concrete steps to further improve relations in the diplomatic and economic spheres.

Israel has also improved relations with Asian countries, but the anticipated windfall of mutual investment has not followed, despite visits by leaders from India, Japan and China, and Netanyahu's visit to India, China, Japan and Australia, other than private financial investment in Israel and defense contracts with India.

The problem seems to be that the Foreign Ministry is currently at a historic low point with a budget deficit of NIS 350 million, diplomats are leaving and the ministry's powers have been usurped and redistributed to six other ministries. Consequently, the ministry has not formulated a plan to increase relations with African and Latin American countries.

Israel failed in averting the recognition of the State of Palestine by many nations, the latest of which, Columbia, is considered to be a friend of the Jewish state.

No African country has agreed to absorb any significant amount of migrants and asylum workers from Israel, and a summit initiated by Netanyahu and planned to take place in Togo was cancelled. Relations with South Africa are at a historic low as well.

Relations with the European Union are also at a record low point, but Netanyahu managed to befriend Eastern European countries and break the union's consensus to prevent the passing of anti-Israel resolutions.

Relations with the Jewish Diaspora are also said to be at a low point due to the cancellation of agreements concerning the Western Wall and conversions that would have chipped away at the Orthodox monopoly on religious matters.