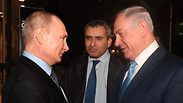 Minister Elkin (center), Russian President Putin (L) and PM Netanyahu
Photo: Kobi Gideon/GPO
Elkin: We blocked Iran in Syria, we will do the same in Lebanon
Jerusalem and diaspora affairs minister, who accompanied PM Netanyahu on his meeting with Russian President Putin, says the pair's interpersonal relationship is being leveraged to attain Israel's goals, such as freedom to operate in Syrian and Lebanese airspace; on likelihood of a third war in Lebanon, Elkin says it's up to Hezbollah—or, in actuality, Iran.
Iran's attempts at entrenchment in Lebanon stem from the Islamic republic's failure to do so in Syria, Minister of Jerusalem and Diaspora Affairs Ze'ev Elkin (Likud), who accompanied Prime Minister Benjamin Netanyahu on his state visit to Russia, told Ynet Tuesday morning.

"We've blocked countless attempts by Iran to arm Hezbollah from inside Syria, and now they're trying to do the same thing on Lebanese soil," Elkin said. "But just like we knew how to head them off in Syria, we'll do the same in Lebanon."

Elkin, who sat in on Netanyahu's meeting with Russian President Vladimir Putin, said the talk between the two leaders revolved around three major issues.




"First came the issue of continued Iranian attempts at military entrenchment in Syria. Second was the issue of Iranian attempts to establish precise missile factories in Lebanon and third was the move led by the American president to amend the Iranian nuclear deal," Elkin, who's also the minister for environmental protection, elucidated.

Nevertheless, the Likud minister did qualify his statement by saying what characterized Russian-Israeli dialogue since 2009, when Netanyahu returned to power, was discretion.

"What Putin says in the room stays in the room," Elkin said. "It's one of the things that allowed the two leaders to build such a personal, open and forthright relationship—because he can count on what he says not being leaked out."

Commenting on Russia's own involvement in the Middle East, Elkin said, "The Russian have been in Syrian airspace for the past two and a half years, but Israel has been successful in maintaining a status quo of freedom to operate in the Syrian and Lebanese airspaces despite said Russian presence."

"That should not be taken for granted, and obviously the Iranians aren't overly pleased with it, nor are the Syrians," he added.

"If you had asked me two and a half years ago whether there was a chance for Israel to be successful in preserving that operational freedom, which is paramount for our security, I would have said chances are slim. But lo and behold, Netanyahu was able to secure it time and again in these meetings," Elkin said.

On the issue of recently heightened tensions with Lebanon, the minister said, "There's a lot of middle ground between doing nothing and a third Lebanon war. Can Israel theoretically be dragged into such a war? It could, because we're facing a non-state actor.

"If Lebanon could manage its own affairs, we'd live in a somewhat more certain world. It is, however, clear it has no interest in warring with Israel and was badly damaged by the previous round of hostilities.

"When it comes down to it, it's not only up to us. It's also up to Hezbollah or—in other words—up to Iran. Hezbollah is merely the long arm of Iran."